Dell PowerVault 110T DLT7000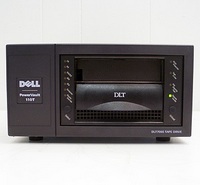 Built with the same advanced linear recording technology, precision tape guiding system, and adaptive control mechanism proven successful in previous generations of DLT tape drives, the DLT 7000 was the first to employ the innovative Symmetric Phase Recording Technique and the four channel recording system.
An ideal choice for intense data backup, archiving and near-online storage applications for mid-range computers, network servers, high end workstations and mainframe environments running Windows® NT, NetWare®, UNIX or proprietary operating systems. The Quantum DLT 7000 is available now from CPU, Inc.
DLT 7000 Benefits
Native capacity of 35 GB at 5 MB/s
2:1 Compression allows 70 GB at 10 MB/s
Read and Write backward compatible with previous DLT tape formats
4 read/write channels for high performance
Open system, supported by many manufacturers
200,000 hours MTBF at 100% duty cycle
30,000 hour head life
Manufacturer
Quantum Corporation
Model number
Dell PowerVault 110T DLT7000
FCC class
A, B

---

Functional

Interface type
16-bit SCSI-2, single-ended
DLTtape IV cartridge capacity:

Formatted native

35 GB (extended 1778-ft tape)

Formatted compressed

70 GB (extended 1778-ft tape)
DLTtape IIIxt cartridge capacity:

Formatted native

15 GB (extended 1778-ft tape)

Formatted compressed

30 GB (extended 1778-ft tape)
DLTtape III cartridge capacity:

Formatted native

10 GB (standard 1167-ft tape)

Formatted compressed

20 GB (standard 1167-ft tape)
Drive type
digital linear tape (DLT), Streaming,35.0/70.0-GB, 16-bit, single-ended
Recording type
2-7 RLL code with DLT7000 format,MFM with 2.6-GB/6.0-GB formats
Tracks
208; 52 quads
Data transfer rate:

Native

5.2 MB/sec

Compressed

up to 10 MB/sec
Linear bit density
85,937 bpi/track (extended 1778-ft tape)

---

Performance

Tape speed:

Read/write

160 inches/sec

Search

175 inches/sec

Rewind time

60 sec (average)
Access time:

Average

60 sec

Maximum

120 sec

---

Physical

Form factor (internal)
5.25 inches, full-height, modified depth

| | | |
| --- | --- | --- |
| | Internal | External |
| Height | 82.5 mm (3.25 inches) without bezel86.3 mm (3.4 inches) with bezel | 124 mm (4.87 inches) |
| Width | 144.8 mm (5.7 inches) without bezel148.3 mm (5.84 inches) with bezel | 229 mm (9.0 inches) |
| Depth | 228.6 mm (9.0 inches) without bezel243.8 mm (9.6 inches) with bezel | 325 mm (12.75 inches) |

---

Tape Cartridge

DLTtape IV
4.1-inch x 4.1-inch x 1.0-inch cartridge1800 ft of -inch magnetic metal particle tape (1778 ft of data length)
DLTtape IIIxt
4.1-inch x 4.1-inch x 1.0-inch cartridge1800 ft of -inch magnetic metal particle tape (1778 ft of data length)
DLTtape III
4.1-inch x 4.1-inch x 1.0-inch cartridge1200 ft of -inch magnetic metal particle tape (1167 ft of data length)

---

Environmental

Temperature:

Operating

10 to 40C (50 to 104F)

Nonoperating

–40 to 66C (–40 to 151F)
Humidity:

Operating

20% to 80% (noncondensing)

Nonoperating

10% to 95% (noncondensing)
Shock:*

Operating

10 G (10 ms)
Vibration:

Operating

0.25 G peak (5 to 500 Hz)

Nonoperating

1.0 G peak (5 to 500 Hz)2.0 G peak (10 to 500 Hz)
Altitude:

Operating

18 to 9150 m (60 to 30,000 ft)
Magnetic radiated susceptibility:

Low frequency (10 to 3000 kHz)

100 dB (pt) at 10 kHzdeclining to 80 dB (pt) at 1 MHz
Radiated susceptibility:

High frequency (1 to 1000 MHz)

3 V/m (rms) 80% modulated 1 kHz
* sine wave

---

Reliability

MTBF
200,000 hrs
Head life
30,000 tape motion hrs (average)
Tape life
500,000 passes

---

Regulatory

Safety requirements
UL 1950CSA C22.2 #220

TUV-Rheinland EN60950

Electromagnetic emission requirements
FCC Part 15, Class A and BEN55022/B

EN55082/B

CISPR22/A and B

VCCi/ Class 1 and 2

CE mark Class A and B

---

Electrical

Internal:

|  Power | Steady State |  Maximum |
| --- | --- | --- |
|  +5 VDC ( 5%) |  3.6 A |  3.8 A |
|  +12 VDC ( 5%) |  1.6 A |  2.6 A |
|  Wattage |  37 W |  47 W |

External:

Electrical rating

100 to 240 VAC

Power requirements

44 W0.67 A at 110 VAC