Exabyte 8200 and 8200c 8mm Tape Drives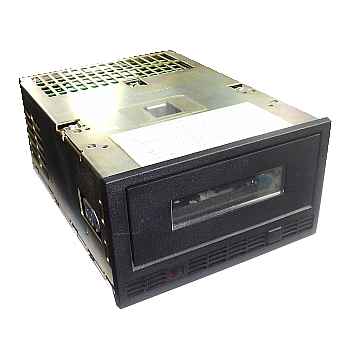 The EXB 8200 is a high-performance, high-capacity 8mm cartridge tape subsystem that incorporates an integral Small Computer System Interface (SCSI).
The EXB 8200 uses advanced helical-scan recording technology, which allows a high areal recording density and data storage capacity.
It uses the industry standard 8mm tape cartridge, which is removable and rewritable and which can store up to 2.5 GBytes of formatted user data.
The EXB 8200 is available in a single-ended or differential SCSI configuration.
Data Transfer Rate
The maximum burst data transfer rate is limited by the performance of the SCSI host adapter, the Western Digital WD33C93 or WD33C93A for single- ended SCSI, the WD33C92 or WD33C92A for differential SCSI, and the EXB 8200 buffer control hardware.
The maximum burst asynchronous data transfer rate does not exceed 1.5 MBytes per second.
Typical burst performance is approximately 1.2 MBytes per second. This level of performance has been measured with the EXB 8200 attached to an Adaptec SCSI development system.
The EXB 8200 has a sustained asynchronous data transfer rate of 246 KBytes per second.