Exabyte Eliant 820 8mm Tape drive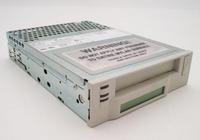 The Exabyte® Eliant 820™ is an enhanced 8mm digital helical-scan tape drive that is available as an internal model or table top model. The internal model is packaged in the industry standard, 5.25-inch half-high form factor and can be easily integrated into many platforms.
The tabletop model is a standalone, desktop storage solution with its own power supply, fan, and SCSI connectors. Assuming an average compression ratio of 2:1, the tape drive can store approximately 14 gigabytes (GB) on a single EXATAPE™ 160m XL 8mmData Cartridge.
Featuring an integral Small Computer System Interface (SCSI) controller (single-ended or differential), the Eliant 820 is an ideal solution for archiving; data interchange, software distribution, imaging, data acquisition, and backup/restore applications.
The Eliant 820 is similar in many ways to Exabyte's EXB-8505XL 8mm tape drive. It offers the same reliability and data capacity as the EXB-8505XL.
However, the Eliant 820 records data to tape at 2.0MB/second compressed—twice the speed of the EXB-8505XL.
When the Eliant 820 compresses data, it uses the Improved Data Recording Capability (IDRC) algorithm licensed from IBM.
The tape drive also uses the Exabyte Compression Integrity Check feature to ensure that data is accurately compressed and decompressed.
The compression algorithm is contained in an Exabyte proprietary integrated circuit. Although the actual compression ratio depends on the type of data, the tape drive achieves an average compression ratio of 2:1.
| | | | |
| --- | --- | --- | --- |
| | 8200 format (read only) | 8500 format | 8500c format |
| Maximum sustained data transfer rate | 500 KB/sec | 1 MB/sec | 2.0 MB/sec* |
| Maximum capacity on a 160m XL tape | 3.5GB | 7.0GB | 14.0GB* |
| Partitions | No | No | Yes |
| Long filemarks | 270 tracks (2,160 KB) | 6 tracks (48 KB) | 6 tracks (48 KB) |
| Short filemarks | 23 tracks (184 KB) | one 1-KB physical block | one 1-KB physical block |
| Setmarks | No | No | 6 tracks (48 KB) |
| EOD mark | No | 602 tracks | 602 tracks |
| Search fields | No | Yes | Yes |