Exabyte Mammoth2 (M2) 8mm Tape Drive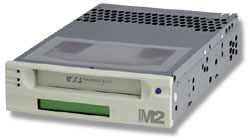 The Exabyte® Mammoth-2 (M2TM) tape drive, is a high-speed, high-capacity tape drive ideally suited to meet the demanding requirements of the network server industry and the data-intensive applications in the health care, video, and banking industries.
Built on the solid technology foundation of the first generation Mammoth Tape technology tape drives, M2 improves on the earlier drives by combining technological advances in the data recording format with improvements in head design, media, data compression, and error correction to provide dramatically increased performance, capacity, and reliability.
The M2 tape drive transfers uncompressed data at a rate of up to43.2 gigabytes per hour (GB/hr) or up to 108 GB/hr of compressed data .A single cartridge can store up to 150 GB of compressed data. Data compression is accomplished using the industry-standard Adaptive Lossless Data Compression (ALDC) algorithm to provide a 2.5:1compression ratio. Enhanced Partial Response Maximum Likelihood (PRML) signal processing and sophisticated error correction code (ECC3) algorithms ensure data integrity.
The M2 tape drive is available with the following communication interfaces:_
Low voltage differential (LVD) Ultra2 SCSI
High voltage differential (HVD) SCSI-2
Native Fibre Channel
The SCSI versions of the M2 tape drive provide full compatibility with traditional computing environments. The LVD tape drive supports connection to LVD and single-ended wide SCSI buses.
The native Fibre Channel version of M2 includes built-in support for the new EXTENDED COPY (E-copy) SCSI command, making it ideal for use in a storage area network (SAN) environment that uses server-less backup.
The M2 tape drive is designed to take advantage of an improved formulation of advanced metal evaporated (AME) tape.
In addition to improved data capacity, the SmartClean. media includes a short segment of cleaning tape at the beginning of each cartridge. SmartClean media is part of an innovative approach to making M2 a truly self-cleaning, maintenance free tape drive.
The M2 tape drive uses a highly efficient M2 data format that writes narrow, closely spaced tracks that contain more data than the original Mammoth format.  The AME media and data format result in higher capacities than were possible with the original Mammoth media and format. At the same time, the tape drive retains the ability to read AME tapes written in the original Mammoth format.
The M2 tape drive is available in either a self-contained tabletop model or an internal model ready for installation into an enclosure.
The tabletop model is an external peripheral housed in an Exabyte enclosure, complete with power supply and cooling fan.
The internal model of the tape drive conforms to a 5.25-inch, half-high form factor and can easily be integrated into your own system.