HP DAT24 Internal (DDS3) C1555D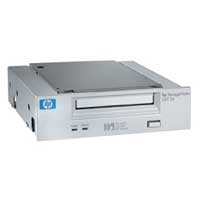 The HP StorageWorks DAT 24 Tape Drive provides dependable solutions for backing up data in small, medium, and enterprise businesses.
With its economical price, the DAT 24 Tape Drive provides outstanding value to a wide range of organizations and network customers. It is a product within the DDS product line, offering ideal resolutions for storing critical data.
The DAT 24 Tape Drive contains HP One Button Disaster Recovery (OBDR) which allows for speedy, complete disaster recovery with a simple press of a button. This eliminates the need for numerous storage disks and backup software. The DAT 24 Tape Drive comes with additional features such as backwards compatibility with previous DDS generations, protecting your investment in the product and ensuring access to preceding data.
HP StorageWorks DAT 24 Internal Tape Drive – Tape drive – DAT ( 12 GB / 24 GB ) – DDS-3 – SCSI LVD/SE – 5.25″
Basic Specifications
Manufacturer's Part Number
342547-001
Product Description
HP StorageWorks DAT 24 Internal Tape Drive – tape drive – DAT – SCSI
Weight
1 kg
Dimensions (WxDxH)
14.5 cm x 15.5 cm x 4 cm
Data Transfer Rate (compressed)
2 MBps ( 7.03 GBph )
Data Transfer Rate (native)
1 MBps ( 3.52 GBph )
Device Type
Tape drive – DAT
Interface Type
SCSI LVD/SE
Recording Standard
DDS-3
Storage Removable
DAT – 5.25″ x 1/2H
Storage Removable Capacity
12 GB (native) / 24 GB (compressed)
Supported Tape Cartridges (Read and Write)
DDS-3
Environmental Parameters
Min Operating Temperature
5 °C
Max Operating Temperature
40 °C
Humidity Range Operating
20 – 80%
Miscellaneous
MTBF
300,000 hour(s)
General
Device Type
Tape drive – DAT
Recording Standard
DDS-3
Interface Type
SCSI LVD/SE
Width
14.5 cm
Depth
15.5 cm
Height
4 cm
Weight
1 kg
Expansion / Connectivity
Interfaces
1 x Fast SCSI LVD/SE – 50 PIN IDC
Compatible Bays
1 x front accessible – 5.25″ x 1/2H
Storage Removable
Type
DAT – 5.25″ x 1/2H
Capacity
12 GB (native) / 24 GB (compressed)
Supported Tape Cartridges (Read and Write)
DDS-3
Recording Standard
DDS-3
Data Transfer Rate (native)
1 MBps ( 3.52 GBph )
Data Transfer Rate (compressed)
2 MBps ( 7.03 GBph )
Average Seek / Access Time
40 sec
Buffer Size
2 MB