HP DAT40i Internal DDS4 DAT Drive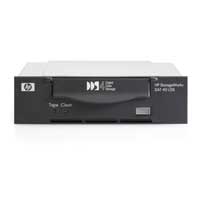 The HP StorageWorks DAT 40 Tape Drive is an entry level, dependable solution for small to medium server storage backup needs as well as enterprise networks.
With its economical price, the DAT 40 Tape Drive provides outstanding value to customers in a wide range of organizations and networks. It is part of a long line of DDS products continuing to offer excellent solutions for storing data.
The DAT 40 can store up to 40 GB of compressed information at an enhanced rate of 6 MB/sec making it the ideal product for storageaware companies.
With its low price the DAT 40 offers a low cost of ownership. It has backwards compatibility with previous DDS technologies, making it a costeffective solution to businesses protecting their previous investment.
Additionally, the DAT 40 comes with the unique HP One Button Disaster Recovery (OBDR). It provides the ability to restore their systems quickly and effortlessly with the touch of a single button, eliminating the need for backup disks and software.
Other features
include the TapeAlert for monitoring the tape drive and media and, the HP StorageWorks Library and Tape Tools (L&TT) for troubleshooting. It is compatible with other leading operating systems, servers, and backup software.
What's new
New "HP StorageWorks" branding
New tape drive model number for
HP ProLiant and HP AlphaServer systems
Key features and benefits
Low price: Provides backup solution for
value conscious customers
Effortless: Supports HP One-Button Disaster Recovery
for fast, easy recovery from system crashes
Dependable: Mean time between failure (MTBF) of
DAT 40: 400,000 hours at 12% duty cycle; also
provided is a 3-year warranty
Scalable: Reads and writes DDS-2 and DDS-3 media,
providing a painless upgrade path
Manageable: TapeAlert monitors both drive and
media to warn of any problems; Library and Tape
Tools is available for diagnostics and for firmware
downloads
Compatible: "Plug-and-play" functionality with
servers, operating systems and backup software
Adaptable: Available in internal, external,
tape array and hot-plug models; also supported
on the 3U rackmount kit
Product features
Feature
Description
Drive type
4 mm cartridge tape, DAT 20/40 format
Capacity

Native – 20GB

Compressed – 40GB (assuming 2:1 ratio, data dependant)

Tape format

Recording Method – Helical Scan, 4 mm

Recording Format – ANSI/ISO/ECMA, DDS-2, DDS-3, and DDS-4

Media compatibility
Read/Write Compatible:

DDS-2 – 120 m Tape, 4.0GB native capacity, 8.0GB with 2:1 data compression

DDS-3 – 125 m Tape, 12GB native capacity, 24GB with 2:1 data compression

DDS-4 – 150 m Tape, 20 GB native capacity, 40GB with 2:1 data compression

Recommended: DDS-4 – 150 m Tape, 20GB native capacity, 40GB with 2:1 data compression

Transfer Rates

Native (typical) – 10.8 GB/hr

2:1 Compression (typical) – 21.6 GB/hr

Sustained Transfer Rate

Native – 3.0 MB/s

Compressed (assuming 2:1) – 6.0 MB/s

Internal buffer
4MB (SDRAM)
Search speed
Average of 50 seconds to any point on a DDS-4, 150 m tape
Load time
<15 seconds
Interface
Ultra-Wide LVD/SE SCSI-2
Drives per SCSI Bus (Maximum)
6
Termination
No terminator is required for internal model (assumes use of terminated cable). The external model requires termination (terminator included).
Supported servers1

HP ProLiant DL servers

HP ProLiant ML servers

HP AlphaServers

HP 9000 servers

Supported SCSI HBAs1
Call SQS for information on currently supported HBAs .
Supported operating systems1

MS Windows Server 2003, and XP Pro /32 Bit edition

MS Windows Server 2003, and XP Pro /64 Bit edition

MS Windows 2000 Server/Professional

MS Windows NT 4.0 Server/Workstation

HP-UX 11i ver 1.0 (PARISC)

HP-UX 11i ver 1.6/2.0 (IA64)

MPE/ix 7.x

Novell NetWare 6.0

Novell NetWare 5.x

Red Hat Enterprise Linux AS

Red Hat Enterprise Linux AS 64Bit

SUSE SLES 8.0 (United Linux V1.0 32bit)

Solaris x86

Sun Solaris 9

SGI IRIX 6.5+

Sco Openserver 5.0.7 (Caldera)

IBM AIX 5.x

TRU 64 5.1b

Macintosh System 7.0+

Supported software1

BrightStor ARCServe v9.0.1

BrightStor ARCServe IT v6.6

BrightStor ARCServe Open v2.2

BrightStor Enterprise Backup

Dantz Retrospect v6.5

HP OpenView OmniBack II v4.0 Cell Manager

HP Omniback ll v3.5 Cell Manager

HP OpenView Storage Data Protector v5.1 (32Bit & 64bit)

Legato NetWorker v5.1, 5.5, 7.0

Microlite BackupEDGE v1.1.6

NovaNet v8.5

Quadratec Time Navigator v3.7

SyncSort Backup Express v2.15c+

Tivoli TSM v5.2.0

TOLIS BRU

UltraBac 7.0