HP DAT 72 Hot Plug Tape Drive Q1529A – 333749-001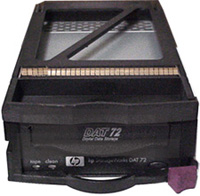 The industry leading HP StorageWorks DAT 72 SCSI Tape Drive provides an optimum balance of dependable backup capacity and low cost of ownership for small and medium businesses, remote offices, and workgroups.
Protect your small or medium business with a dependable range of DAT drives from HP that balance price and performance
Change-ready, cost-effective and trusted solutions providing appropriate levels of protection based on your specific business needs. Our data protection and recovery solutions are compatible and scalable—growing and adapting to your business demands.
Key Features
Reliable Industry standard DDS technology: As the most popular server backup technology of all time, DAT offers a proven track record of reliability and assured investment protection
Lowest media price of any tape technology: Low-cost backup solution and ongoing low-cost of ownership
SCSI Interface: For customers requiring SCSI connectivity, the drive features a native SCSI-3 Ultra 160 interface
Up to 36 GB native capacity on a single tape: Provides enough capacity for a small server or workstation
Transfer rate of over 10 GB/hr native: Backs up a whole cartridge worth of data in less than four hours
HP One Button Disaster Recovery (OBDR): Restores your entire system at the touch of a button without the need for system disks or software CDs
Small, half-height form-factor and choice of models: Flexibility to suit most environments, available as external or internal models to fit servers, workstations, and rack-mount kits
Broad compatibility with a wide range of servers, operating systems, and backup software: Suits almost every operating environment
HP StorageWorks Library and Tape Tools utilities: Helps make installation, management, and troubleshooting simple
Technical Features
Reliable: Long track record of proven reliability so customers can rest assured that their data is protected

Cost effective: Inexpensive media contributes to an exceptionally low-cost backup solution and low cost of ongoing ownership

Plug-and-play: Available with native USB 2.0 interface, allowing the hardware to go from box to backup in less than 60 seconds; Connecting a tape drive has never been easier

Easy-to-use: Supports HP StorageWorks One-Button Disaster Recovery (OBDR), enabling complete system recovery at the touch of a button. It's simply the easiest way to restore data in the event of a disaster

Low-maintenance: Automatic head cleaning system reduces the need for cleaning

Well-connected: Compatible with all leading operating systems, backup software and servers

Manageable: Includes HP StorageWorks Library and Tape Tools, which provide superior management capabilities that make the drives easy to install, use and support

Future-proof: Investment protection from the tape technology with an illustrious past and a solid road map for future development

Open standard: Based on industry-standard DDS technology, which delivers the competitive benefits of an open format
Software

Compatible operating systems

Microsoft® Windows®, Novell NetWare, HP-UX, Linux (various distributions), HP Tru64, HP OVMS, IBM AIX, Sun Solaris, and other operating systems

Storage

Seek time

Transfer rate in sustain mode

Native: 3.2 MB/s; Compressed: 6.4 MB/s

Burst transfer rate performance

6.4 MB/s asynchronous; 160 MB/s synchronous

SCSI interface

Compressed capacity

Native capacity

Drive type

Logical recording format

Partial response maximum likelihood (PRML)

Recording technology

Buffering

System

Chassis type

Upgradability

HP StorageWorks Library and Tape Tools (L&TT) enables firmware downloads

One button disaster recovery

Undetected error rate