HP DAT 72×6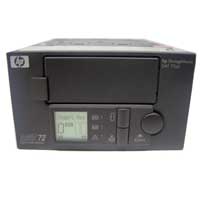 The HP StorageWorks DAT 72×6 tape autoloader is an ideal backup solution for small to medium companies with limited IT support or remote sites of larger companies. By reducing administrative tasks, the DAT 72×6 not only simplifies the backup process but reduces the risk of error as well. The autoloader includes a single tape drive inside an enclosure that holds six data cartridges in a removable magazine.
With the ability to store up to 72 GB per DAT 72 data cartridge, the DAT 72×6 provides a quick, efficient means for reducing workload. The backup administrator simply loads the magazine with a week's worth of data cartridges, and the autoloader takes care of backup for an entire week. The backup schedule can be customized by the backup application to suit the user's needs.
The DAT 72×6 comes with HP One-Button Disaster Recovery, providing the ability to restore the system quickly and effortlessly with the touch of a single button, eliminating the need for operating system and software CDs.
Features
Affordable: Very low media prices contribute to an exceptionally low overall cost of ownership
Self-sufficient: Automatically does five daily backups and a cleaning cycle in a weekly schedule controlled by your backup software
Backward-compatible: Reads and writes industry-standard DDS-3, DDS-4, and DAT 72 media
Simple: Supports HP StorageWorks One-Button Disaster Recovery (OBDR), simply the easiest way to restore your system in the event of a disaster
Dependable: Reduces the number of manual administrative tasks, and therefore the risk of error, in the backup process
Convenient: Eliminates the need to change tapes at unsociable hours – managing your backup is reduced from a daily chore to the weekly task of changing the magazine
Well-connected: Compatible with leading operating systems, backup software and servers
Versatile: Comes in internal and external models to suit most environments
Multilingual: Choice of six languages on the LCD front panel display