HP DAT160 USB External DAT Drive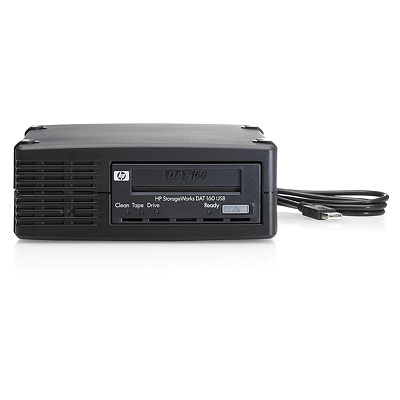 Protect your small or medium-sized business, remote office or workgroup with HP DAT Tape Drives offering the ability to store up to 320 GB of compressed data on a single cartridge at speeds of up to 86 GB/hr (assuming 2:1 data compression).
Low ongoing cost of ownership is provided through low-cost, durable DAT media and backward compatibility which delivers a seamless upgrade path from older drives.
HP DAT Tape Drives are available in several capacity points, 320 GB, 160 GB, 72 GB, 40 GB and interface types, SCSI, SAS and USB, making them compatible with virtually any server environment.
DAT Tape Drives come complete with data and cleaning cartridge, the option to download Yosemite Server Backup Basic backup and recovery software (for a single Windows or Linux server), and HP Library and Tape Tools.
High Performance Backup Solution That Fits Most Environments.  Provides a balance of price and performance for small and medium business environments and enterprise workgroups. HP DAT 320 Tape Drives can store up to 320 GB on a single cartridge, backing up to 86 GB/hr on a single DAT 320 cartridge in around four hours. Available as external or internal models to fit servers, workstations, and rack-mount kits. SAS, SCSI or USB 2.0 interfaces for universal plug and play. Visit us on the web for the latest information on HP Backup Compatibility. Helps prevent unauthorized access of tape media (lost or stolen cartridges). Tape drive based encryption avoids performance degradation associated with host based encryption.
Reduce Your Backup Costs.  Low-cost is driven by low-cost durable DAT media, and ongoing low-cost of ownership. As the most popular backup technology of all time, DAT provides investment protection through a proven track record of reliability and backwards compatibility.
Complete Backup Solution.  Restores your entire ProLiant system at the touch of a button without the need for system disks or software CDs. Visit HP One-Button Disaster Recovery (OBDR) Solution for the latest information. Provides a complete, easy-to-use backup solution that includes DAT media, cleaning cartridge, and the option to download Yosemite Server Backup Basic Software, to allow users to protect their data without any additional purchases. Helps make installation, management, and troubleshooting simple http://www.hp.com/support/tapetools.
Native USB 2.0 interface for low-cost, universal plug-and-play connectivity.
External half-height DAT 160 USB tape drive, 80 GB native capacity, carbon
| | |
| --- | --- |
| Capacity | 160 GB; Maximum, compressed 2:1 |
| Encryption Capability | No |
| Form Factor | 5.25-inch half-height |
| Host interface | USB 2.0 |
| Memory Size | 16 MB; Included |
| Product dimensions (W x D x H) | 8.85 x 12.6 x11.02 in |
| Recording technology | DAT 160 |
| Transfer Rate | 49.3 GB/hr; Maximum, compressed 2:1 |
| Weight ( Imperial ) | 5 lb |
| Weight ( Metric ) | 2.27 kg |
| WORM capability | Yes |
Technical Information
Storage Capacity
80 GB (Native)/160 GB (Compressed)
Recording Method
Helical Scan
Recording Formats
DAT 160 (Read/Write)
DAT 72 (Read/Write)
DDS-4 (Read/Write)
Drive Performance
| | |
| --- | --- |
| Data Transfer Rate | 6.90 MBps (Native)/13.80 MBps (Compressed) – 25 GBph (Native Backup)/50 GBph (Compressed Backup) |
| Buffer | 2 MB |
Interfaces/Ports
| | |
| --- | --- |
| Interfaces/Ports | USB 2.0 – USB |
Physical Characteristics
| | |
| --- | --- |
| Form Factor | External |
| Dimensions | 2.6″ Height x 7.1″ Width x 9.3″ Depth |
| Weight (Approximate) | 5.00 lb |