HP DAT40x6 DDS4 Autoloader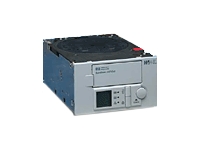 The HP StorageWorks DAT 40×6 Tape Autoloader is an ideal solution for IT professionals of small to medium ranged networks as well as enterprise systems for data backup.
By lowering administrative tasks, it not only eases the backup process but reduces the risk of error as well. The autoloader is a tape drive inside an enclosure which holds several cassettes.
With the ability to store up to 40 GB per cassette and with six holders, this DAT tape autoloader provides a quick, efficient mechanism for storing information and reducing the administrator's workload.
The DAT 40×6 Tape Autoloader has the unique HP One-Button Disaster Recovery (OBDR) which ensures a system's restoration without having to look for numerous backup disks and software applications.
Tape Autoloaders are designed for low-end users where an administrator loads the tape into the drive, and then the autoloader backs up all of the information for up to an entire week. The first day all of the data is stored, and throughout the rest of the week the autoloader does backup for the system, and a cleaning on the last day.
The software can be customized to each customer's satisfaction for what works best for their network. Additional reliability features include HP StorageWorks Library and Tape Tools (L&TT) for troubleshooting and Tape Alert for monitoring the drive and media.
The HP StorageWorks DAT 40×6 Tape Autoloader has been improved with the added feature of OBDR. OBDR ensures that in case of a system failure, you will be able to restore your system with a single button.
This feature puts the tape drive into a special disaster recovery mode that enables it to act as a bootable CD to restore the operating system and reboot the server or workstation.
What is One Button Disaster Recovery?
A tape autoloader that can: Under Disaster Recovery situations,
ID itself as a boot device
Hold enough information to bring the system up for an OBDR restore from tape
Reduce the risk of a user error during recovery, and therefore subsequent recovery failure Is completely self-contained in that it needs no other software or CD's to restore the system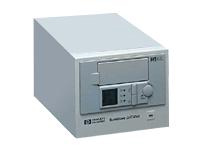 DAT 40×6 Autoloader,Internal HP StorageWorks DAT 40×6 Autoloader for ProLiant and AlphaServer Systems, Internal Q1550A
DAT 40×6 Autoloader for Open Connect, Internal HP StorageWorks DAT 40×6 Autoloader for Open Connect, Internal C5716A
DAT 40×6 Autoloader, External HP StorageWorks DAT 40×6 Autoloader for ProLiant and AlphaServer Systems, External Q1551A
DAT 40×6 Autoloader, External HP StorageWorks DAT 40×6 Autoloader for ProLiant and AlphaServer Systems, External Q1552A
DAT 40×6 Autoloader, External HP StorageWorks DAT 40×6 Autoloader for Open Connect, External C5717C
DAT 40×6 Autoloader for, Trade Ready HP StorageWorks DAT 40×6 Autoloader for Open Connect, Trade Ready C5715A