HP DAT8 (C1599a/c1539a) DDS2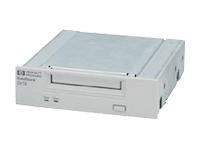 Introducing HP's new trade-ready DDS-2 drive, the HP C1599A. A direct successor to HP C1533A, the HP C1599A offers the same impressive performance and capacity while breaking new ground in terms of reliability and usability.
The HP C1599A is an ideal fit for medium to large businesses looking for reliable backup. It can be used with a wide range of host systems including PC servers, UNIX® servers and workstations, and small multi-user systems.
Unparalleled Reliability
Thanks to HP's uncompromising attention to quality, the HP C1599A offers an unprecedented MTBF of 300,000 hours. This means maximum protection for your customers' data, and satisfied customers for you.
TapeAlertTM, a new industry standard developed by HP, greatly improves reliability. It informs the backup application of the state of the drive and media, and indicates any maintenance or media changes required.
The HP C1599A supports HP TapeAlert Certified Solutions, leading applications which have met HP's high standard of TapeAlert implementation. The HP C1599A also offers an internal cleaning mechanism which prevents head clogging.
Investment Protection
The HP C1599A is fully hardware, firmware and software compatible with the HP C1533A. In addition, it is read and write compatible with DDS format (60 meter and 90 meter) and DDS-2 format (120 meter) media, allowing your customers to interchange data with their existing DDS drives.
Low Power Consumption
The power consumption of only 3.8W reduces heat emission and improves the reliability of the mechanism and any enclosure.
Key Features
Typical capacity of 8 GB and transfer rate of 1 MB/s with hardware data compression
Industry-standard DDS-2 format
300,000 hours MTBF
Internal head cleaner
Read after write data verification
Complete compatibility with the HP C1533A
Reduced power consumption
Assured connectivity with leading servers, operating systems and backup software
Inexpensive DDS media, for low cost of ownership
Technical Specifications
Capacity
120 meter tape (DDS-2 format)
4.0 GB native, typically 8.0 GB with data compression
Recording Format
ANSI/ISO/ECMA DDS, DDS-DC and DDS-2
Compression Algorithm
DCLZ
Performance
Transfer Rate
Sustained
510 KB/s native, typically 1 MB/s with data compression
Burst
3MB/s maximum asynchronous, 10MB/s maximum synchronous
Search Speed
40 seconds average file access for any part of a 120 meter tape
Reliability
Expected MTBF of 300,000 hours at 12% duty cycle
Media
DDS-2 (120 meter) and DDS (90 and 60 meter) Media Recognition System Cartridges
Interface
Single-ended, narrow SCSI-2
Form Factor
3.5-inch, half-height
Power
Requirements
5V DC, ±5%,
consumption
3.8W typical when use
Environmental Conditions
Ambient Temperature
Operating
5°C to 40°C (41°F to 104°F) (mechanism and media)
Non-operating
-40°C to 70°C (-40°F to 158°F) (mechanism)-40°C to 45°C (-40°F to 113°F) (media)
Relative Humidity
Operating
20% to 80% (mechanism and media)
Non-operating
5% to 95% (mechanism)20% to 80%(media)
Maximum Wet-Bulb Temperature
26°C non-condensing
Physical Characteristics
Dimensions (H x W x D)
41.3 mm (1.6 in) x 101.5 mm (4.0 in) x 150 mm (5.9 in)
Weight
695 g (1.53 lbs)
Product Certifications
UL Recognition to UL 1950, CSA Certification to C22.2 No 950, IEC 950, TUV-EN 60950, CE Declaration of Conformity