HP Ultrium 230 LTO1 Full Height External Tape Drive C7370A / 301567-001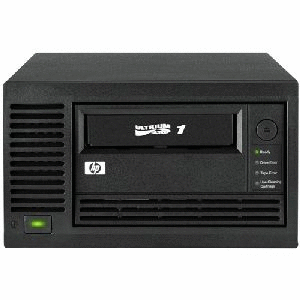 HP Ultrium 230 LTO1 Full Height Internal Tape Drive C7370A / 301567-001
The Ultrium 230 offers excellent capacity, superior performance and exceptional reliability. An ideal solution for network server backup where speed, capacity and reliability are critical, the Ultrium 230 stores 200 GB of compressed data on a single tape at speeds of up to 108 GB per hour.
The HP StorageWorks Ultrium 230 Tape Drive is the high-performance, first-generation super drive in the HP Ultrium Family.
With ultimate reliability and ease of use in mind, the rugged design builds on superior LTO technology and adds advanced features to deliver a new level of data protection.
The combination of higher speed and data rate matching that adjusts to the speed of the host makes the HP Ultrium 230 an ideal backup solution for over-the-network backup where minimal downtime is imperative and throughput bottlenecks can raise havoc with other types of tape drives.
In addition, the drive's HP StorageWorks One-Button Disaster Recovery provides the easiest way to restore data in the event of a disaster.
The Ultrium 230 Tape Drive makes an excellent workhorse for all-around data protection.
Features
Dependable: Sets new standards for data integrity and reliability with a simple and robust design based on inherently reliable LTO technology
High-Capacity: Stores all your data on a single cartridge to make your backups and restores simpler
Fast: Minimizes network interruption with blazing speed and dynamic data rate matching that squeezes optimal performance from your server and network environment
Easy: Supports HP StorageWorks One-Button Disaster Recovery (OBDR), simply the easiest way to restore data in the event of a disaster
Affordable: High capacity combined with low media cost delivers an exceptionally low cost of ownership
Manageable: Includes HP StorageWorks Library and Tape Tools, which provide superior management capabilities that make the drives easy to install, use and support
Well-Connected: Compatible with all leading operating systems, backup software and servers
Future-Proof: Delivers a compelling technology roadmap, doubling speed and capacity each generation
Open: Based on LTO technology, which delivers the competitive benefits of an open format
Reliable: Simple, high-integrity data path including read and write DRAM protects your data
| | |
| --- | --- |
| Key Specifications | HP SureStore Ultrium 230 Drive |
Capacity

100 GB native, typically 200 GB with hardware data compression

Recording Format

Performance

Transfer Rate

15 MB/s native, typically 30 MB/s with hardware data compression*

Search Speed

Interfaces: Ultra II SCSI

Multi-Mode Operation

Low voltage differential wide—80 MB/s

Single-ended wide—20 MB/s

Single-ended narrow—10 MB/s

Integrated Connector

High-density 68-pin SCSI, power, jumpers

Automation Control Interface (ACI)

RS-422 with 9-pin connector

Up to 115.2 Kbaud operation with flow control and error detection

Basic Functionality

Control of cartridge load/unload

Setting drive configuration

Retrieval of drive status and information

Extended Capabilities

Ability to retrieve SCSI commands

Ability to read/write to LTO-CM

Ability to upload/download firmware image

Surrogate SCSI

Reliability

MTBF

250,000 hours at a 100% duty cycle

Hard Error Rate

Loading Mechanism

Powered load with precision eject

Form Factor

Power Requirements

Standby without cartridge

Standby with cartridge

Operating Average

Operating Peak

Physical Characteristics
Dimensions

(H x W x D)

82.5 x 146 x 203 mm

(3.25 x 5.75 x 8 in)

Weight
Product Certifications

UL Recognized

CSA Certified

TUV

CE

C-Tick

RRL

BCIQ (planned applications)

Preferred Media

HP Ultrium Data Cartridge, 200 GB (compressed capacity)* C7971

HP Ultrium Cleaning Cartridge, C7979A