HP Ultrium 232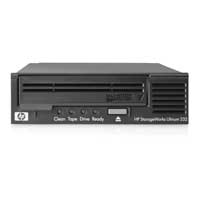 The HP StorageWorks Ultrium 232 tape drive is the fastest LTO-1 drive in our portfolio. This affordable superdrive delivers enterprise-class capacity, performance, and reliability at a midrange price.
With a compressed capacity of 200 GB per data cartridge and a compressed data transfer rate of 115 GB per hour, this LTO-1 drive is read- and write-compatible with all first-generation Ultrium drives and media, and its media can be read by any LTO-1, -2, or -3 drive from any manufacturer
Key Features
Affordable LTO technology
Enterprise-class capacity and reliability
Compact half-height form factor
HP One-Button Disaster Recovery (OBDR) restores your entire system at the touch of a button
Data rate matching continuously adjusts the speed of the tape drive to that of the server or network environment, which increases performance, reduces mechanical wear on the drive, and extends tape life
Fully read-and-write compatible with Ultrium drives and media from other manufacturers
Includes a license to download a full, single-server copy of HP OpenView Storage Data Protector for Windows
Includes a single-server copy of Yosemite TapeWare XE backup software with disaster recovery option
Active head cleaning provides automated cleaning that increases head life and reduces the need for using the cleaning cartridge
Lower power consumption for maximum reliability at minimum cost
Soft-load feature automatically takes the data cartridge and moves it into the load position
Advanced tape leader capture design ensures fail-safe cartridge loading Internal, external, hot-swap, and rack-mounted models are available
Includes HP StorageWorks Library and Tape Tools to help with installation, management, and troubleshooting
Product Features
Feature
Description
Models
Ultrium 232 Internal (carbonite) – DW064AUltrium 232 External (carbonite) – DW065A
Form Factor
5¼-inch half-height
Media Type
LTO Ultrium 1 with 4K Cartridge Memory
Data Capacity
100 GB Native200 GB Compressed (assumes 2:1 data compression)
Data Transfer Rate
16 MB/s
HP Server Compatibility
HP StorageWorks Ultrium tape drives are supported on the following classes of HP systems:

HP ProLiant DL servers
HP ProLiant ML servers
HP Integrity servers
HP 9000 servers
HP workstations

HP StorageWorks Ultrium tape drives are also supported on server platforms from third-party manufactures including:

For details of which tape drive models work with which systems, including third-party systems.

Call SQS for information on currently supported HBAs .