HP Ultrium 448 Internal LTO2 Tape Drive DW016A / 378467-001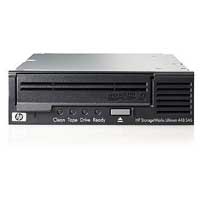 HP Ultrium 448  Internal LTO2 Tape Drive DW016A / 378467-001
The Ultrium 448 (HP Part No DW016A) was, when new, positioned as the highest capacity half-height tape drive in the HP StorageWorks family, the Ultrium 448 Tape Drive delivers a compressed storage capacity of 400GB per data cartridge using LTO 2 media. By doubling the capacity of the current half-height HP Ultrium 215 Tape Drive, HP customers now require fewer data cartridges to meet their storage needs, significantly reducing their IT costs and increasing their return on investment.
The Ultrium 448 Tape Drive also features a compressed data transfer rate of 48 MB/s, more than three times as fast as the HP Ultrium 215 tape drive.
The Ultrium 448 Tape Drive is fully read and write compatible with all first and second-generation Ultrium drives and media.
The Ultrium 448 Tape Drive supports the industry's most comprehensive list of compatible hardware and software platforms, including support for both HP and non-HP servers and workstations.
Multiple drive models are available for the Ultrium 448 Tape Drive including internal drives, external (tabletop) drives, array modules for the HP StorageWorks Tape Array 5300, and a 1U preconfigured rack-mount model. Each drive model includes a single HP Ultrium 400 GB data cartridge as well as all required mounting and cabling hardware for integration into HP servers.
These features combined with low pricing make the Ultrium 448 Tape Drive the ideal direct-attach and network backup solution for entry-level and midrange servers where capacity and low cost of ownership are critical.
HP Ultrium 448  Internal LTO2 Tape Drive DW016A / 378467-001
The HP StorageWorks Ultrium 448 Tape Drive represents HP's second generation of half-height LTO tape drive technology.
Features of the Ultrium 448
High Capacity: The Ultrium 448 Tape Drive stores up to 400GB of data on a single data cartridge using 2:1 compression.
High Performance: The Ultrium 448 Tape Drive transfers data at a rate of up to 48 MB/s using 2:1 compression.
Half-Height Form Factor: The Ultrium 448 half-height form factor allows for installation into all standard 5.25-inch server and workstation media bays.
Data Rate Matching (DRM): Allows the tape drive to dynamically and continuously adjust the speed of the drive, from 8 MB/s to 24 MB/s, matching the speed of the host or network.
LTO Open Standard: Drive technology based on an open standard that provides for media compatibility across all brands of LTO Ultrium products.
Server Compatibility: Qualified on HP ProLiant, Integrity, 9000, NonStop, and AlphaServers platforms, as well as many servers from other leading vendors such as Dell, IBM, and Sun.
Software Compatibility: Extensive list of supported backup and archiving software applications from HP, CA, VERITAS, Yosemite, Legato, Tivoli, and many more.
Management and Diagnostics Software Included: HP StorageWorks Library and Tape Tools software provides a single application for managing and troubleshooting your tape drive, media and configuration.
Backup Software Included: The Ultrium 448 Tape Drive includes a single-server version of Yosemite TapeWare XE (CD) and HP OpenView Data Protector (license)
One-Button Disaster Recovery (OBDR) Supported: Firmware-based disaster recovery feature that can restore an entire system using a single Ultrium 448 tape drive and data cartridge
Benefits to the DW016A
High capacity drive allows customer to backup more data with fewer data cartridges: High capacity drive reduces the costs associated with data protection by requiring fewer data cartridges to complete backups.
Ultra fast performance can backup more data in less time: High performance drive allows customers to scale their backup capacities without having to increase their backup windows.
Small form-factor drive provides for easier integration into servers: The half-height form factor of the Ultrium 448 Tape Drive allows for easier integration into standard 5.25-inch removable media bays.
Data Rate Matching optimizes performance while reducing tape and media wear: Data Rate Matching optimizes the performance of the tape drive by matching the host server or network's data transfer rate, putting less stress on the tape drive and media.
LTO open standard provides customers with more choices: The LTO open standard ensures compatibility across all brands of Ultrium tape drives, giving customers a greater flexibility and choice of Ultrium solutions without losing their investment protection.
Comprehensive hardware and software qualification increase customers agility to adapt to new environments as needed: Support for heterogeneous hardware and software platforms provides customers with a single tape drive solution for all environments.
Investment protection through backward write and read compatibility: Backward read compatibility ensures that files from first-generation (LTO 1) Ultrium data cartridges can be recovered using the HP Ultrium 448 Tape Drive. Backward write compatibility allows the customer to create backups using first-generation Ultrium media with their HP Ultrium 448 Tape Drive, maximizing their ROI for media that was previously purchased.
Complete set of management and diagnostics tools included with each tape drive option and available via free download from HP.com: Tape drive management, performance optimization, and troubleshooting are made simple using the HP StorageWorks Library and Tape Tools application that is included with the HP Ultrium 448 Tape Drive.
Complete hardware and software solution in the box with each HP Ultrium 960 tape drive: HP Ultrium 448 Tape Drives ship with a choice of single-server backup software applications (HP OpenView Data Protector and Yosemite TapeWare), a single HP Ultrium 400GB Data Cartridge, and SCSI cables, providing the customer with a complete data protection solution in the box.
Simple and fast disaster recovery with HP StorageWorks One-Button Disaster Recovery (OBDR): HP Ultrium 448 Tape Drives include an HP-exclusive disaster recovery feature, One-Button Disaster Recovery (OBDR), which allows the customer to simply and quickly recover a server's operating system, software applications, and data using a single HP Ultrium data cartridge.
Looking for LTO data tapes or LTO cleaning tapes?  Click here to buy from our online shop.
http://www.sqsonline.co.uk/technology-solutions/tape-hardware—-/data-cartridges