IBM LTO1 Ultrium Full Height Tape Drives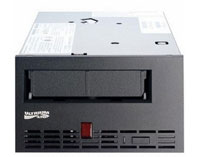 The IBM 100/200 GB LTO 1 Internal Tape Drive is a fast/wide Ultra2 (low voltage differential) SCSI tape drive for backing up and restoring data and archiving files.
These files can include multimedia, imaging, transaction processing, large databases,
and other storage-intensive applications.
Each tape cartridge can store up to 100 GB of data (uncompressed), or up to 200 GB of data (compressed), assuming a 2:1 compression ratio.
IBM LTO Ultrium drives share advanced technologies. Advanced multi-track recording capabilities, state-of-the-art
magneto-resistive (MR) flat lap heads and a surface control guiding system are designed to work together to
support extremely high recording densities.
The flat lap head is designed to help improve contact between the read/write recording elements and the tape, supporting high-quality recording and read-back of your data. The surface control guiding system guides tape across the read/write recording heads, using the surface of the tape and not the tape edges.
This feature is intended to help improve the longevity of the tape while minimizing the chance of physical damage to the tape media.
Error-correction code (ECC) helps support data integrity and a Statistical Analysis and Reporting System supports preventive diagnostic reporting, helps determine drive and media status and helps improves drive and system availability.
IBM LTO tape systems are designed to provide outstanding levels of reliability that can help you better manage your computing resources.
Designed to provide high-capacity and high performance capabilities, IBM TotalStorage Ultrium tape solutions are well-suited for backup, restore and archive applications in midrange and enterprise-class environments.
They are designed to offer the performance, resiliency and reliability needed to support operations in an e-business on demand™ environment.
Benefits
Integrates into the following storage environments: Server (non-IBM & IBM), Automated library, and SAN-attached
Adheres to the widely supported LTO specification which promotes standardization and allows for multiple media and drive providers
Provides superior performance and capacity attributes for unattended backup within midrange and enterprise server environments
Compatible with major operating systems and ISV applications
Uses advanced technologies that optimize throughput, increase cartridge capacity and provide superior data protection
Product
LTO Ultrium Tape Drive
Product
strengths
Open systems attach,
high capacity, fastdata transfer, desktop
footprint
Technology
Longitudinal, Serpentine
Number of
Heads/Tracks
Ultrium 1: 8/384
Number of
Drives
1
Max Number of
Cartridges
1
Cartridge
CapacityNative/compressed
Ultrium 1: 100/200GB
Max System
CapacityCompressed
Ultrium 1: 200GB
Max Drive
Data rate
Ultrium 1: 15/30MB/sec