Quantum DAT160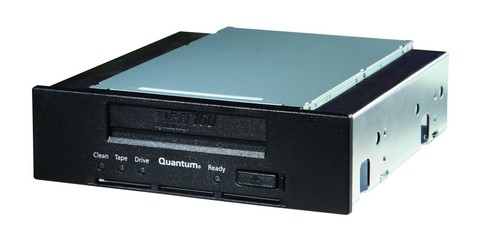 Quantum's DAT 160 delivers a capacity of 160 GB on a single data cartridge and a transfer rate of up to 50 GB/hr (assuming a 2:1compression ratio). At the same time this sixth generation DDS/DAT drive provides the proven reliability and two-generation backward compatibility that users of the world's most successful tape technology have come to expect.
Quantum "Backup Ready" certified solutions allow you to go from box-to-backup in minutes with the highly reliable Quantum DAT 160 tape drive, world-class Backup Exec™ QuickStart software and durable Quantum media. "Backup Ready" solutions are cost-effective, easy to install and fully-supported by Quantum.
The Quantum DAT 160 drive comes with a choice of interfaces: USB for low-cost, universal plug-and-play and ,Ultra 160 SCSI 3 to meet the needs of legacy systems and SAS for advanced systems.
Available in 3.5-inch and 5.25-inch Half-High form factors and both tabletop and internal configurations, the Quantum DAT 160 is ideal for current DDS/DAT customers looking for compatibility.
Read/Write compatible with previous generation DAT 72 and DDS-4 products, the DAT 160 enables a simple migration path for the installed base of over 6 million DDS/DAT users, delivering a dependable and cost-effective backup solution with a low ongoing cost of ownership.
Key Features and Benefits
Backward compatible with DDS-4 and DAT72
Compressed capacity up to 160GB*
Compressed performance up to 50GB/hour*
Certified "Backup Ready" Solution
Overview
The Quantum DAT 160 tape drive provides superior capacity and performance in the DDS/DAT portfolio for small and medium businesses requiring backward compatibility to previous DDS/DAT tape drives.
Up to 160 GB* Capacity
Up to 50 GB/HR* transfer rate
"BACKUP READY" Solution
3 year rapid exchange warranty
Available with a choice of interface: USB for universal plug-and-play connectivity, SCSI for legacy systems and SAS for advanced systems
Internal and tabletop configurations available
Read/Write compatible with previous generation DAT 72 and DDS-4 products, providing a simple migration path for DAT users
Inexpensive media for low total cost of ownership
3.5-inch or 5.25-inch Half-High form factors for flexible server installation as well as convenient tabletop option
RoHS compliant to meet environmental standards
Media Compatibility
Quantum DAT 160 tape drives write to the following media:DAT 160 (MR-D6MQN-01), DAT 72 (CDM72), DDS-4 (CDM40)
Quantum DAT 72 tape drives read the following media:DAT 160 (MR-D6MQN-01), DAT 72 (CDM72), DDS-4 (CDM40)
Quantum DAT 160 tape drives utilize the following cleaning cartridge:DDS/DAT Cleaning II Cartridge(MR-D6CQN-01)