Quantum DAT72 DAT Tape Drive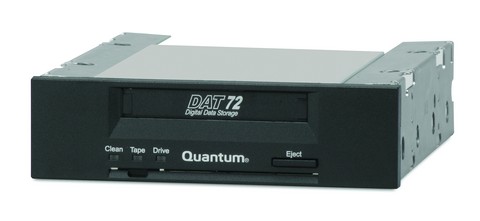 Quantum DAT 72 tape drive solutions deliver compressed* capacities of 72GB with backup speeds of up to 25.2GB/hr.
Quantum "Backup Ready" certified solutions allow you to go from box-to-backup in minutes with the highly reliable Quantum DAT 72 tape drive, world-classBackup Exec™ QuickStart software and durable Quantum media. "Backup Ready" solutions are cost-effective, easy to install and fully-supported by Quantum.
Choose the Quantum DAT 72 tape drive configuration that is right for your environment, a server-installable internal, convenient tabletop with the conectivity options of SCS, eSATA or USB or space-efficient rackmount.
Key Features and Benefits
72GB of Reliable Backup and Recovery
Compressed capacity up to 72GB*
Compressed performance up to 25.2GB/hour*
Certified "Backup Ready" Solution
Overview
For up to 72GB of affordable, reliable data backup, the Quantum DAT 72 tape drive is a solution you can count on. Based on the same proven DAT technology trusted by small businesses around the world, the DAT 72 delivers affordable performance and solid investment protection.
Direct connect to internal SATA or USB ports on many popular servers
Eighty percent greater capacity over previous generations of DDS tape
TapeShield™ provides an environmentally-sealed head-to-tape interface that reduces airborne contaminants, increases data integrity and enhances drive and media life
Backward-compatible with DDS-3 and DDS-4 technology, protecting your investments in DDS technology and making upgrades easy
Data Storage Capacity:36 Gbytes (72 Gbytes compressed)
Native Transfer Rate:3.5 Mbytes per second (7.0 Mbytes per second
compressed)
The DAT 72 and DDS-4 drives combine established DAT technology, high-density recording and hardware data-compression capability along with Seagate's proven computer-grade design to provide unmatched reliability and performance characteristics among DDS products.
The DAT 72 and DDS-4 drives are ideal for workstation, server, and network/enterprise applications such as:
• Backup of high-capacity fixed discs
• Data interchange between systems
• Network servers
• Loader products
• Online data collection
• Near-line secondary storage for text, graphics or multimedia information of all types
• Archival storage
The DAT 72 drives represent Seagate's commitment to reliable engineering and durable tape drive products that implement leading-edge technology.
Key features of the drives include:
• A platform based on state-of-the-art sealed drive mechanism and tape-handling
components for improved immunity to airborne contaminants and extended
media life
• Three available form factors: 3.5-inch internal for installation in a 3.5-inch half height space; 3.5-inch drive with factory-installed 5.25-inch mounting rails and bezel for installation in a 5.25-inch half-height space; and external subsystem with built-in, auto-sensing, worldwide power supply
• ANSI/ECMA compliance and capability to write and read DDS 5th Generation (DAT 72 only) DDS-4, DDS-3, and DDS-2 (DDS-4 only) cartridges
• Advanced onboard DDS-DC hardware using Data Compression Lempel-Ziv
(DCLZ) data-compression algorithm
• High-speed transfer rates for fast backups
DAT 72:
– 3.5 Mbytes per second typical—uncompressed data
– 7.0 Kbytes per second typical—compressed data
• High-performance SCSI burst transfer rate of 10 Mbytes per second
asynchronous and 80 Mbytes per second synchronous
• Flash memory to store setup parameters and enable field firmware upgrades
• Four-head design with RAW error detection and rewrites
• Three levels of ECC to ensure data integrity
• Uncorrectable error rate of less than 1 in 1015 bits
• LVD / Ultra Wide SCSI connection
• Automatic power-on self-test
• Support for TapeAlert™ Certified Solutions
Capacity
| | |
| --- | --- |
| Compressed Capacity | Up to 40 GB |
| Native Capacity | Up to 20 GB |
| Recording Format | DDS-4 |
| Interface Type | Ultra2 SCSI LVD |
Environmental Limits
| | |
| --- | --- |
| Min/Max Operating Temp | 5 deg C / 45 deg C |
| Max Operating Humidity | 80% |
| Max Operating Shock | 10 Gs |
| Max Non-Operating Shock | 100 Gs |
| Max Operating Vibration | .5 G |
| Max Non-Operating Vibration | 1.5 G |
Performance
| | |
| --- | --- |
| Native Sustained Transfer Rate | 9.9 GB/hour |
| Compressed Sustained Transfer Rate | up to 19.8 GB/hour |
| Average File Access Time | < 40 seconds |
| Search Speed | 400x normal |
| Drum Rotational Speed | 10000 RPM |
| Backup Speed | 9.9 GB/hour |
| Compressed Backup Speed | up to 19.8 GB/hour |
| Buffer Memory Size | 10 MB |