Quantum DLT1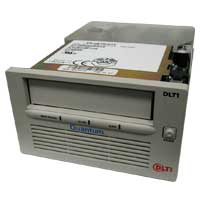 Designed for enterprise networking systems of workgroups, intranets and extranets, the Quantum DLT1 backs up an entire small to medium sized server or workstation on a single DLTtape IV cartridge.
Based on the industry standard DLTtape™ technology, the DLT1 delivers fast and dependable performance in a cost-effective manner.  It will easily integrate into your existing or new network system, as the DLT1 works with practically all the popular backup software packages and hardware platforms.
Benefits
Native capacity of 40GB at 3MB/s
2:1 Compression allows 80GB at 6MB/s
Read compatible with the DLT 4000 format
Industry standard, with over 1.5 million drives sold
Ubiquitous, with over 55 million tape cartridges sold
Open system, supported by many manufacturers
More than 200,000 hours MTBF at 100% duty cycle
THE MARKET
With the explosive growth of corporate networking, IT professionals are continually struggling to build and manage a wide range of enterprise-wide networking systems, including workgroups, intranets, and extranets. Each one of these systems also requires fast, accurate, dependable, and costeffective data backup. To meet this need, Quantum Corporation now offers the DLT1– a backup and archive tape subsystem based on DLTtape™ technology, the industry standard for reliability.
PERFORMANCE, RELIABILITY
AND VALUE
The Quantum DLT1 tape backup drive delivers a capacity of 80 GB compressed, with a 6 MB/second transfer rate, compressed. This high level of capacity and performance enables a single DLTtape IV cartridge to back up an entire small-to-medium sized storage server or workstation. With a backup speed of more than 20 GB per hour, the Quantum DLT1 meets the requirements of the most demanding computing and networking environments.
EASY INTEGRATION
For maximum ease of installation, the DLT1 drive works with virtually all popular backup software packages, enabling easy integration with new and existing networks and systems.
The drive is also available in either an internally configured or self-standing enclosed unit.
For a complete list of application software packages and hardware platforms compatible with the Quantum DLT1, please go to www.quantum.com. And move up to the system that's extending the standard of value in DLTtape backup.
DLT1 FEATURES AND BENEFITS
Outstanding capacity and performance – 80 gigabytes capacity, compressed, with 6 megabytes-persecond transfer rate, compressed Single-cartridge backup– one DLTtape IV cartridge can back up an entire small-to-medium sized storage network or workstation DLTtape IV cartridge compatibility– the DLT1 tape drives use industrystandard Quantum DLTtape IV cartridges and are fully backward read compatible with the popular Quantum DLT 4000 format Reliability and data integrity– 30,000 hour recording head life, 200,000 MTBF at 100% duty cycle, 1,000,000 pass media durability
Quantum DLT1 Specifications
Performance Specifications
Sustained Transfer Rate (MB/sec) Native 3.0
Compressed 6.0
Burst Transfer Rate (MB/sec)
Synchronous 20
Formatted Capacity (GB)
Native 40
Compressed 80
Average File Access (sec) 68
Interface Wide Ultra SCSI Low Voltage Differential (LVD)
Tape Format Specifications
Recording Format 168 tracks (84 logical track pairs)
Recording Density 123 kbits per inch Track Density (tpi) 336
Encoding Method RLL 1,7
Data Compression DLZ