Quantum SDLT 320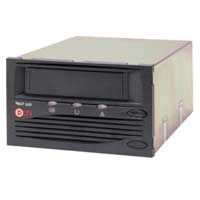 Overview
The SDLT 320 represents a major advance in tape capacity and performance. It offers the lowest cost per GB of any other storage solution on the market and, as part of the DLTtape product family, enjoys the highest industry acceptance.
The SDLT 320 is backward read compatible with DLTtape IV media and uses the same Super DLTtape I cartridges as the SDLT 220, preserve your data storage investments.
Specifically designed for the high duty-cycle requirements of high-end and automated environments, the SDLT 320 is the ultimate solution for today's demanding backup needs.
Benefits
Native capacity of 160GB at 16MB/s transfer rate
2:1 Compression allows 320GB at 32MB/s
250,000 hours MTBF at 100% tape motion
Fully backward read compatible with DLTtape IV cartridges and uses Super DLTtape I media
Advanced Metal Particle Media embeds the optical servo tracks onto the reverse side of the tape freeing up 100% of tape's magnetic side for recording data
High efficiency PRML Channel creates more tracks on the tape
Laser Guided Magnetic Recording combines best of optical and magnetic technologies
Pivoting Optical Servo increases high duty cycle reliability
Magneto-Resistive Cluster Heads for the highest data density
Increased media capacity provides easier use and lower cost of ownership
Model number (color):
TR-S23AA-BR (beige) Internal Bare Drive LVD
TR-S23AA-EY (black) Internal Kit LVD
TR-S23AA-YF (beige) Internal Kit LVD
TR-S23BA-EY (black) External Kit LVD
TR-S23BA-YF (beige) External Kit LVD
TR-S23AB-EY (black) Internal Kit HVD
TR-S23AB-YF (beige) Internal Kit HVD
TR-S23BB-EY (black) External Kit HVD
TR-S23BB-YF (beige) External Kit HVD