Quantum VS80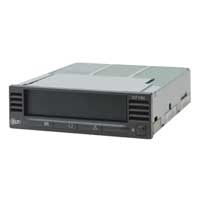 The Quantum DLT VS80 fills the need for reliable tape storage in a compact, reliable tape drive.
The Quantum DLT® VS80 tape drive features a half-height form factor and provides 80GB of compressed capacity and a 6 MB/sec compressed transfer rate, with all the reliability you expect from DLT Technology.
The DLT® VS80 is read/write compatible with the DLT1 and read compatible with the DLT 4000. Available as an internal, tabletop or rackmount configuration, the DLT VS80 uses DLTtape® IV media. Quantum "Backup Ready" products include Backup Exec™ QuickStart software, data cartridge and cleaning cartridge providing a complete data protection solution in a box. The Quantum DLT VS80 delivers value, reliability and durability—all at an industry-leading cost per GB.
Features
Native capacity of 40GB at 3MB/second transfer rate
2:1 compression allows for 80GB capacity at 6MB/second transfer rate
Half-high, 5.25-inch form factor
Read and write compatible with the DLT1
Read compatible with the DLT 4000
Internal and external configurations available
Uses DLTtape IV media cartridges
Performance
| | |
| --- | --- |
| Native sustained transfer rate | 3 MB/s |
| 2:1 Compressed transfer rate | 6 MB/s |
| Native formatted capacity | 40 GB |
| 2:1 compressed capacity | 80 GB |
| Average file access time | 68 sec |
| Interfaces available | Wide Ultra SCSI-2(Low Voltage Differential) |
Model numbers (color):
BHHAA-YA (beige) Internal Bare Drive
BHHAA-EY (black) Internal Kit
BHHAA-YF (beige) Internal Kit
BHHBA-YF (beige) External Kit
BHDCA-EY (black) Rack single tape drive
BHECA-EY (black) Dual tape drive