Refurbished DAT72 HP USB External Drive DAT72 Repair available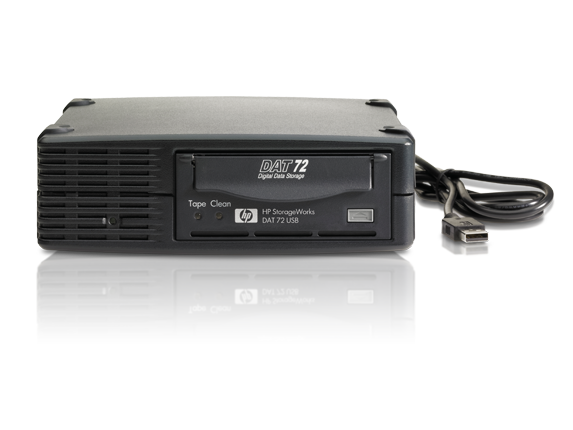 A refurbished DAT72 can protect your small or medium-sized business, remote office or workgroup with HP DAT Tape Drives offering the ability to store up to 320 GB of compressed data on a single cartridge at speeds of up to 20 GB/hr (assuming 2:1 data compression).  DAT72 repair service available.

HP DAT72 Repair
For customers requiring an HP DAT72 repair solution, we offer a full in house LTO repair service carried out by our HP trained engineers.  All our repairs carry a full 12 month warranty to give you peace of mind.
Refurbished HP DAT72 drives
We regularly stock refurbished HP DAT72 drives  as well as a vast range of other refurbished LTO drives.  All our  refurbished HP DAT72 drives carry a full 12 month warranty for your peace of mind.
What the manufacturer says about the HP DAT72 Tape Drive.
What's New
New 1U SCSI and USB Rack-mount Kits with latching switch for auto restart.
Features
High Performance Backup Solution That Fits Most Environments
Provides a balance of price and performance for small and medium business environments and enterprise workgroups.
Reduce Your Backup Costs
Low-cost is driven by low-cost durable DAT media, and ongoing low-cost of ownership.  As the most popular backup technology of all time, DAT provides investment protection through a proven track record of reliability and backwards compatibility.
Complete Backup Solution
Restores your entire ProLiant system at the touch of a button without the need for system disks or software CDs.
Recording technology DAT 72
Capacity 72GB; Maximum, compressed 2:1
Transfer rate 21.6 GB/hr; Maximum, compressed 2:1
Buffer size 8MB; Included
Host interface USB 2.0
Encryption capability No
WORM capability No
Form factor 5.25 inch half-height
[/vc_column_text] [/vc_column] [/vc_row] [vc_row] [vc_column] [vc_column_text el_position="first last"]
Do you need an HP DAT72 repair?  Are you looking for a fully refurbished HP DAT72?
SQS offer a full repair service on all HP DAT72 drives including HP DAT72 repair and have a large stock of refurbished tape drives with full warranty, including refurbished HP EH922A and other Ultrium lto drives. Click HERE to go to our HP DAT72 Repair Page or call us on 08450 666222 to speak to our team.
[/vc_column_text] [/vc_column] [/vc_row] [vc_row el_position="last"] [vc_column] [vc_column_text el_position="first last"]
Media
Looking for HP DAT72 Tape media and DDS cleaning tapes for the HP DAT72?  Click here to go to our online store. http://www.sqsdatastorage.co.uk/data-media-supplies 
[/vc_column_text] [/vc_column] [/vc_row]