Refurbished HP EH922A LTO4 Half Height Tape Drive HP EH922A Repair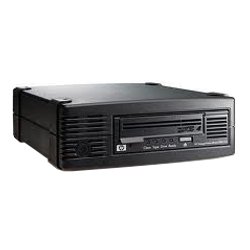 [vc_row el_position="first"] [vc_column] [vc_column_text el_position="first last"]
The HP EH922A StorageWorks LTO-4 Ultrium 1760 Tape Drive, based on fourth-generation LTO technology, is the highest capacity, 1.6 TB compressed per cartridge, fastest performing, 576 GB per hour, half-height tape drive in the LTO4 StorageWorks family providing hardware data encryption to deliver the ultimate direct attach data protection solution for entry level and for midsized customers. It is available in both SCSI and SAS models. AES 256-bit hardware data encryption provides easy-to-enable security to protect the most sensitive data and prevent unauthorized access of tape cartridges. By using LTO-4 encryption, not only is data fully capable of being compressed therefore maximizing capacity, encrypted backups are completed without a loss in performance. The Ultrium 1760 EH922A Tape Drive is fully read and write compatible with all fourth – third-generation Ultrium media and offers further investment protection through its backward-read compatibility with second-generation Ultrium media.
HP EH922A Repair
For customers requiring an HP EH922A repair solution, we offer a full inhouse LTO repair service carried out by our HP trained engineers.  All our repairs carry a full 12 month warranty to give you peace of mind.
Refurbished HP EH922A drives
We regularly stock refurbished HP EH922A drives  as well as a vast range of other refurbished LTO drives.  All our  refurbished HP EH922A drives carry a full 12 month warranty for your peace of mind.
What the manufacturer says about the HP EH922A LTO-4 Ultrium 1760 Tape Drive.
Features
High capacity Stores up to 1.6 TB of data on a single data cartridge using 2:1 compression. High capacity drive reduces the costs associated with data protection by requiring fewer data cartridges to complete backups.
Higher performance with dynamic data rate matching Provides an optimized compressed data transfer rate of 576 GB/hr allowing customers to scale their backup capacities without having to increase their backup windows. HP's exclusive dynamic data rate matching feature can match the throughput of the host and reduce starting and stopping the tape drive.
Half-height form factor for easy installation and integration. Allows for installation into all standard 5.25-inch media bays.
AES 256-bit hardware data encryptionProvides easy-to-enable security to protect the most sensitive data and prevent unauthorized access of tape cartridges
Investment protectionShips with HP Data Protector Express Single Server Edition Software for backup/recovery and the HP Data Protector Express Bare Metal Disaster Recovery option.
Broad connectivity3 Gb/sec SAS and U320 SCSI interfaces making it ideal for midrange and departmental servers.
Software compatibilityExtensive list of supported backup and archiving software applications.
Management and diagnostics software includedTape drive management, performance optimization, and troubleshooting are made simple using the HP StorageWorks Library and Tape Tools application that is included with the HP Ultrium 1760 Tape Drive.
WORM (Write-Once, Read-Many) media supportFor IT organizations with stringent, long-term data retention requirements, WORM (Write-Once, Read-Many) data protection capability offers a simple and secure method for archiving records allowing customers to affordably meet the toughest industry compliance regulations.
Server compatibilityQualified on HP ProLiant, Integrity, 9000, NonStop, and AlphaServers platforms, as well as many servers from other leading vendors such as Dell, IBM, and Sun. Support for heterogeneous hardware and software platforms provides customers with a single tape drive solution for all environments.
Technical specifications
Recording technology
LTO-4 Ultrium 1760
Capacity
1.6 TB Compressed 2:1
Transfer rate
576 GB/hr; Compressed 2:1
Buffer size
128 MB; Included
Host interface
Ultra320 LVD SCSI
Encryption capability
AES 256-bit
WORM capability
Yes
Form factor
5.25-inch half-height
Dimensions (W x D x H)
29.8 x 7.9 x 22.5 cm
Weight
3.63 kg
Warranty – year(s) (parts/labor/onsite)
3/0/0
What's in the box
HP EH922A StorageWorks Ultrium 1760 External SCSI Tape Drive, HP StorageWorks Tape CD-ROM (contains HP StorageWorks Library and Tape Tools utilities and localized user manuals), HP Data Protector Express Basic backup and recovery software CD, HP LTO4 Ultrium 1.6 TB RW Data Cartridge, power cord, 68-pin HD to 68-pin VHDCI multi-mode SCSI cable, documentation
[/vc_column_text] [/vc_column] [/vc_row] [vc_row] [vc_column] [vc_column_text el_position="first last"]
Do you need an HP EH922A repair?  Are you looking for a fully refurbished HP EH922A?
SQS offer a full repair service on all HP Ultrium 1760 LTO-4 drives including HP EH922A repair and have a large stock of refurbished tape drives with full warranty, including refurbished HP EH922A and other Ultrium lto drives. Click HERE to go to our HP LTO Repair Page or call us on 08450 666222 to speak to our team.
[/vc_column_text] [/vc_column] [/vc_row] [vc_row el_position="last"] [vc_column] [vc_column_text el_position="first last"]
Media
Looking for HP EH922A  LTO-4 Tape media and LTO cleaning tapes for the HP Ultrium 1760 LTO-4?  Click here to go to our online store. https://www.sqsonline.co.uk/technology-solutions/tape-hardware—-/data-cartridges
[/vc_column_text] [/vc_column] [/vc_row]