Refurbished IBM LTO4 Ultrium Full Height and IBM LTO4 Repair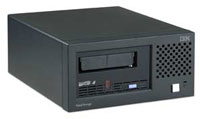 SQS Offer refurbished IBM LTO4 drives as well as an IBM LTO4 repair service.   The IBM System Storage TS2340 Tape Drive is a high-performance, high-capacity data-storage device that is designed to backup and restore open systems applications.
It is the fourth generation in the Ultrium series of products, and is available with a Small Computer Systems Interface (SCSI) or Serial Attached SCSI interface (SAS).
IBM LTO4 repair
For customers requiring an IBM LTO4 repair solution, we offer a full inhouse IBM LTO4 repair service carried out by our  trained engineers.  All our repairs carry a full 12 month warranty (standalone) to give you peace of mind on all your IBM LTO4 repair s.
Refurbished IBM LTO4 drives
We regularly stock refurbished IBM LTO4 drives  as well as a vast range of other refurbished LTO drives.  All our  refurbished IBM LTO4 drives carry a full 12 month warranty for your peace of mind.
What the manufacturer says about the IBM LTO4 Tape Drive.
Highlights
Designed to provide high-capacity and performance to address the most demanding backup and archiving requirements
Double the cartridge capacity of previous generation LTO drives
Available hardware encryption designed to offer highly secure data storage along with high performance
Native data transfer rate of up to 120 MBps
Choice of SCSI or SAS interfaces
IBM System Storage TS2340 Tape Drive Express Model
Today, data is a key corporate asset in all types of businesses. The ability to access data quickly and reliably is critical to your success. Whether your business utilizes a high-performance network server or individual workstations, archiving and retrieving data in a dependable and consistent manner is mission critical.
The IBM System Storage™ TS2340 Tape Drive—the entry-level IBM System Storage tape product family offering—is the answer to growing storage requirements and shrinking backup windows. Incorporating the fourth generation of advanced Linear Tape-Open™ (LTO) technology, the TS2340 Tape Drive is suited for handling the backup, save and restore, and archival data storage needs of a wide range of small systems. In addition, the TS2340 provides added security features by supporting encryption of data with 3 Gbps SAS connectivity.
The IBM System Storage TS2340 Tape Drive is an excellent tape storage solution for businesses requiring backup or low-cost, real-time archival storage of their data within a small window of time—it offers high capacity and performance to help address the most demanding requirements. The TS2340 has a physical storage capacity of up to 1.6 TB (with 2:1 compression) in conjunction with the IBM Ultrium™ 800 GB data cartridge, which provides up to double the capacity of previous Ultrium 3 technology. Along with its higher capacity, the data transfer performance of the TS2340 Tape Drive has increased over the previous generation for a native data transfer rate of up to 120 MBps. The TS2340 Tape Drive continues to provide an excellent alternative to slower and smaller capacity 1/4-inch, 4 mm and 8 mm DLT/SDLT tape drives
Common features
Features the new IBM Ultrium 4 Tape Drive
IBM Ultrium 4 technology is designed to support encryption of data and continues to support write once, read many (WORM) operations
Adheres to the widely supported LTO specification which promotes standardization and allows for multiple media and drive providers
Designed to provide outstanding performance and capacity attributes for unattended backup within midrange and enterprise server environments
Compatible with major operating systems and ISV applications
Uses advanced technologies designed to optimize throughput, increase cartridge capacity and provide superior data protection
Hardware summary
An entry-level Ultrium tape solution for the midrange and network tape storage environments
Designed to provide cost effective backup save and restore and archival storage external to the server
Double the storage capacity of the existing IBM LTO 3 models
Adheres to widely supported Linear Tape-Open (LTO) standards
LVD SCSI and 3 Gbps SAS connectivity available
Drive Features
The drive offers the following features:
One of the following host interfaces: – Ultra160 Low Voltage Differential (LVD) Small Computer Systems Interface (SCSI) – 3 Gbps Serial Attached Small Computer Systems Interface (SAS)
Support for WORM (Write Once Read Many) on WORM cartridge types
Native storage capacity of 800 GB per cartridge (1600 GB at 2:1 compression) when using Ultrium 4 cartridges.
Native data transfer rate of up to 120 MB per second
Burst data transfer rate of 160 MB per second for the SCSI interface, 300 MB per second for the SAS interface.
256 MB read-and-write cache.
Support for encryption of data on Ultrium 4 cartridges (SAS drive only).
New SCSI Log Pages – Device Statistics – Tape Diagnostic Data – Performance Characteristics
| | |
| --- | --- |
| Performance Characteristics | TS2340 Tape Drive |
| Native data rate | 120 MB/s (with Ultrium 4 media) |
| Maximum sustained data rate (at maximum compression) | 140 MB/s (SCSI) or 240 MB/s (SAS) |
| Burst data rate | 160 MB/s (SCSI) or 300MB/s (SAS) |
| Nominal load-to-ready time | 12 seconds |
| Nominal unload time | 17 seconds |
| Average rewind time | 54 seconds |
Note: All sustained data rates are dependent on the capabilities of the interconnect (for example, an UltraSCSI bus is limited to less than 40 MB/sec).
[/vc_column_text] [/vc_column] [/vc_row] [vc_row] [vc_column] [vc_column_text el_position="first last"]
Do you need an IBM LTO4 repair?  Are you looking for a fully refurbished IBM LTO4?
SQS offer a full repair service on all IBM LTO4 drives including IBM LTO4 repair and have a large stock of refurbished tape drives with full warranty, including refurbished IBM LTO4 and other Ultrium lto drives. Click HERE to go to our HP LTO Repair Page or call us on 08450 666222 to speak to our team.
[/vc_column_text] [/vc_column] [/vc_row] [vc_row el_position="last"] [vc_column] [vc_column_text el_position="first last"]
Media
Looking for IBM LTO4 Tape media and LTO cleaning tapes for the IBM LTO4?  Click here to go to our online store. http://www.sqsdatastorage.co.uk/data-media-supplies 
[/vc_column_text] [/vc_column] [/vc_row]