Refurbished MSL2024 HP LTO Tape Library Product Details. MSL2024 Repair available.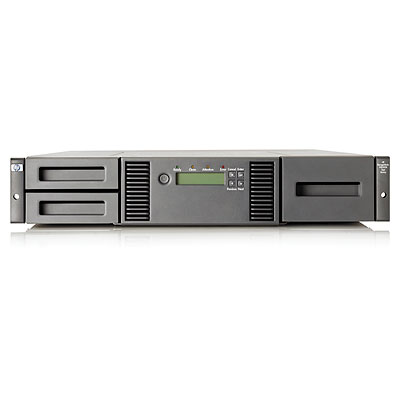 HP MSL2024 LTO Tape Library
The HP StorageWorks MSL2024 Tape Library is the ideal entry-level tape library that provides tape library capacity and extensive features in the compact form of a tape autoloader.  SQS offer MSL2024 repair services as well as stocking refurbished MSL2024 drives and libraries.
HP MSL2024 Repair
For customers requiring an HP MSL2024 repair solution, we offer a full in house LTO repair service carried out by our HP trained engineers.  All our repairs carry a full 6 month warranty to give you peace of mind.
Refurbished HP MSL2024 drives
We regularly stock refurbished MSL2024 drives  as well as a vast range of other refurbished LTO drives.  All our  refurbished MSL2024 drives carry a full 12 month warranty for your peace of mind.
What the manufacturer has to say about the HP MSL2024
With compressed capacity (2:1) of up to 38.4 TB using, the MSL2024 can easily tackle backup and recovery jobs typically handled by mid-range tape libraries.
Utilizing a 2U form factor, the MSL2024 provides a large amount of data storage without consuming a large amount of valuable rack space.
The unique HP web-based management feature reduces the dependencies on local IT resources, allowing multiple sites to be supported centrally.
The MSL2024 offers customers the choice of purchasing a library equipped with LTO Ultrium tape drives and either a SCSI, SAS or Fibre Channel interface.
Each library includes two removable 12-slot magazines, and one user-configurable mail slot dedicated for import/export of data cartridges.
A barcode reader is part of the standard configuration for facilitating media management.
What's New
Integration of the HP StorageWorks LTO-5 Ultrium 3000  Tape Drive.
IPv6 network protocol support. Libraries can now be connected over both IPv6 and IPv4 networks. Libraries have obtained the
IPv6 Ready, Phase-2 logo.
Configure library into multiple partitions for maximum flexibility.
LTO-4 Ultrium library-enabled encryption to protect your data from unauthorized access.
HTTPS support for authenticated and encrypted transfers over the Internet.
Key Features 72 TB of compressed storage capacity (2:1) in a 2U form factor
HP unique web-based remote management functionality
Integrated barcode reader
Removable magazines with one user-configurable mail slot
Upgradeable from one to two LTO-4 Ultrium 1760, LTO-3 Ultrium 920 or LTO-2 448 tape drives
Multiple interface choices available (SCSI, SAS or FC)
Easy-to-enable AES 256-bit embedded hardware encryption with compression
Customer replaceable components
Extensive OS and software compatibility testing
Proven high reliability
Model Differentiator
24 slot tape library with no drives including remote management, removable magazines and bar code reader, rack-ready
Drive Type
No drives included
Number of Cartridge Slots
24
Capacity
72 TB Compressed 2:1
36 TB Native
Maximum, depending on number of drives and drives selected
Transfer Rate
1.15 TB/hr
Maximum, compressed 2:1, depending on number of drives and drives selected
Host Interface
4 Gb Fibre Channel or
Ultra320 LVD SCSI or
3 Gb/sec SAS or
Ultra160 LVD SCSI
Depending on drive type
Encryption Capability
AES 256-bit
With LTO-4 or LTO-5 drives only
Form Factor
2U
[/vc_column_text] [/vc_column] [/vc_row] [vc_row] [vc_column] [vc_column_text el_position="first last"]
Do you need an HP MSL2024 repair?  Are you looking for a fully refurbished MSL2024 ?
SQS offer a full repair service on all HP LTO Libraries and drives including  HP MSL2024 repair and have a large stock of refurbished tape drives with full warranty, including refurbished MSL2024 and other Ultrium LTO drives. Click HERE to go to our HP LTO Repair Page or call us on 08450 666222 to speak to our team.
[/vc_column_text] [/vc_column] [/vc_row] [vc_row el_position="last"] [vc_column] [vc_column_text el_position="first last"]
Media
Looking for MSL2024 LTO Tape media and LTO cleaning tapes for the HP Ultrium LTO drives?  Click here to go to our online store. http://www.sqsdatastorage.co.uk/data-media-supplies 
[/vc_column_text] [/vc_column] [/vc_row]