Seagate / Conner CTD8000 DDS2 DAT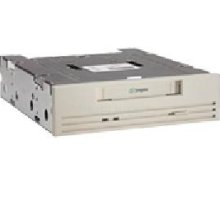 The Conner CTD8000R-S Digital Audio Tape (DAT) drives are fully integrated systems that support the Digital Data Storage Data Compression (DDS-DC) and Digital Data Storage-2 (DDS-2) tape formats.
The DDS-2 format provides for writing data in helical tracks that are narrower than standard DDS track width, allowing 50 percent more tracks on a tape. These drives also contain an embedded, single-ended SCSI controller. These drives provide a native transfer rate of 400 kilobytes/second (KB/sec) before the additional enhancement of data compression or high density recording (DDS-2 format).
General

Manufacturer Seagate/Conner Peripherals, Inc.
Model CTD 8000R-S DDS-2 DAT Drive
FCC class B
Performance

Interface type:
Format SCSI-2
Transmission Single-ended, asynchronous or synchronous
Buffer 1 MB
Data Transfer Rate:
Native 400 KB/sec (22 MB/min)
Compressed 800 KB/sec (44 MB/min)
Burst rate 5 Mb/sec
Tape Speed 0.47 inch (11.9 mm) /sec
Head to Tape Speed 270 inches (6,858 mm) /sec
Search/Rewind Speed 200x normal speed
Average Access Time:
60 Meter Tape 20 seconds
90 Meter Tape 30 seconds
120 Meter Tape 40 seconds
Capacity

60 Meter DAT cartridge:
Native 1.3 GB
Compressed 2.6 GB
90 Meter DAT cartridge:
Native 2.0 GB
Compressed 4.0 GB
120 Meter DAT cartridge:
Native 4 GB
Compressed 8 GB
Tape Formats 
Tape cartridge type 4-mm DAT (Digital Audio Tape)
4-mm MP+ tape (High output metal particle tape)
Cartridge dimensions 73.66 x 53.34 x 10.16 mm  (2.9 x 2.1 x 0.4 inches)
Tape length:
60 m (197 ft) DDS
90 m (295 ft) DDS
120 m (395 ft)
Recording Methods Helical Scan (R-DAT)