Sony AIT-E Turbo SDX-250V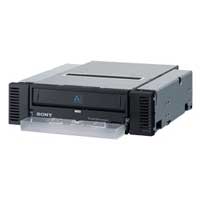 The Sony SDX-250V drive uses data compression to achieve high capacity and high transfer rates. Actual capacity and transfer rate depends on the source file type.
The capacity ratings listed in the next subsection are based on a 98 meter tape AIT-E Turbo cassette. The Sony SDX-250V drive is a high capacity data storage device using Advanced intelligent tape (AIT) technology. The Sony SDX-250V drive achieves high data integrity through read-after-write, an additional level of Error Correction Code, and other features.
Features of the Drive
Major features of the Sony SDX-250V include:
• Capacity
20 Gbyte typical when using 98 meter tape AIT-E Turbo cassette (TAITE-20N) 52 Gbyte with 2.6:1 Data Compression
• Sustained transfer rate 6 Mbyte/sec
• Supported Format: AIT-E Turbo
• Not compatible with the DDS and EXABYTE format tapes
• Burst transfer rate
15.6 Mbyte/sec Asynchronous
40 Mbyte/sec Synchronous• Large 12 MB Buffer Memory
• 3.5″ Standard Height, 5.25″ Half Height
• Embedded SCSI interface (Ultra/WIDE, Single-ended or Low Voltage differential)
• Supports Variable or Fixed record length
• Supports SCSI Disconnection/Arbitration
• Read After Write (RAW) On and Off capability
• Read Retry On and Off capability
• Frame rewrite function
• Three levels of Error Correction Code (ECC)
• High Speed search (120 times nominal Read/Write speed)
• Random read, Append write
• Repeat Write option