Tandberg SLR100 Tape Drive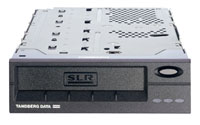 For high end workstations, NetWare and Windows small business servers and Windows midrange computers the Tandberg SLR100 provides an affordable, highly reliable, high performance/- capacity solution providing future scalability and backward compatibility.
Product Overview
A highly reliable, high performance and capacity solution for high end Workstations, entry level Windows servers and Windows and Linux midrange computers.
Capacity of to 100 GB*
Transfer rates of up to 36 GB/Hr*
8 MB buffer and in-line data compression
Auto Sensing transfer rate and additional security withTapeAlert™
Designed for ultimate price/performance and superior reliability the SLR100 offers up to 100GB storage capacity and up to 36GB/Hr transfer speed. Combined with the large 8MB buffer, in-line data compression and "Auto Sense" transfer rate, the SLR100 offers the best price/performance in its class. The standard 5.25-inch half height form factor SLR100 is made for easy installation in a half height bay of most PC servers and workstations. The Ultra 2 interface allows connection to standard SCSI interface cards.
Reliability and Scalability
The SLR100 is compatible with all major operating systems, third party software applications and PC platforms. It secures your investment and future capacity and performance needs by offering one of the most scalable tape storage technologies. It provides backward compatibility to previous SLR products.
Turnkey Solution
The Tandberg SLR100 ships with Symantec's Backup Exec QuickStart software and comes with 3 years warranty and support.
Media Compatibility
Tandberg Data's SLR cartridges are the perfect complement to SLR technology. They provide the necessary features needed for Tandberg SLR tape drives.
*assumes 2:1 data compression
SPECIFICATIONS
| | |
| --- | --- |
| Capacity (native) | 50 GB |
| Capacity (compressed) | 100 GB |
| Transfer Rate (native) | 5 MB/s |
| Transfer Rate (compressed) | 10 MB/s |
| Buffer Size | 8 MB |
| File Access Time | <30 |
| System Interface | SCSI-3, Multimode Wide Ultra (SE)/ Ultra (LVD) |
| Tape Alert Compliant | Yes |
| Recording format | ALRF-1 (Advanced Linear Recording Format) |
| Encoding / Decoding | VR RLL |
| Number of tracks | 192 |
| Backward write | SLR100, SLR75, SLR60, SLR50, SLR40 |
| Backward read | SLR100, SLR75, SLR60, SLR50, SLR40, SLR7, SLR32, SLR24 |
| Media Durability (archival life) | >10 years |
| Hard Read Error Rate (less than) | 10^-17 |
| Reed Solomon ECC | Level 10 |
| MTBF | 300 000 hours |
| Height (Internal Drive) | 44 mm |
| Width (Internal Drive) | 150 mm |
| Depth (Internal Drive) | 218 mm |
| Weight (Internal Drive) | 1.1 kg |
| Height (External Drive) | 64,5 mm |
| Width (External Drive) | 205 mm |
| Depth (External Drive) | 257 mm |
| Weight (External Drive) | 2,6 kg |
| Power Consumption (operating mode) | 23,1 W |
| Power Consumption (sleeping mode) | 7,2 W |
| Power requirements (External drive) | 100-240 V |
| Average load to BOT | 30 |
| Aggregate sustained data rate (native) | 18 GB/h |
| Aggregate sustained data rate (compressed) | 36 GB/h |
| Data Cartridges | SLR100 |
| Temperature (operating) | 5 – 40 |
| Temperature (non-operating) | -30 – 60 |
| Relative Humidity, operating | 20 – 80 % |
| Relative Humidity, Non-operating | 5 – 95 % |
| Altitude (max.) | 4000 m |
| Regulatory Agency Approvals | UL 1950, CAN/CSA-C22.2 No950, EN60950, IEC 60950, AS/NZS 3548, EN 55022 (CISPR22) |
| Form Factor | 5,25 |