Tandberg SLR140 Tape Drive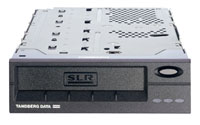 The Tandberg SLR140 5.25 inch half height tape drive, offers high capacity and performance at an extremely affordable price.
Product Overview
High capacity and performance at an extremely affordable price
Capacity of to 140 GB*
Transfer rates of up to 43.2 GB/Hr*
8 MB buffer and in-line data compression
Auto Sensing transfer rate and additional security withTapeAlert™
Tandberg's SLR140 is based on the highly reliable SLR technology platform that has gained industry recognition for its quality and reliability. The standard 5.25-inch half height form-factor allows easy installation and integration into most PC servers and workstations. It is backwards compatible to lower capacity tape drives such as SLR100, SLR75, SLR60, SLR50, SLR40 and SLR7 allowing current and new SLR customers to migrate from lower to higher performance and capacity and protecting their investments.
Special Features
The Tandberg SLR140 has many features that are only found in more expensive tape drives such as "Auto Sense" which allows the SLR140 tape drive to receive data from the host at variable transfer rates for optimal performance on slower buses. The Tandberg SLR140 also supports in-line data compression which provides an effective compression method that maximises system performance. The media management utility built into the drive's firmware monitors the drive and media performance and provides the user with value preventive maintenance information.
Turnkey Solution
The Tandberg SLR140 ships with Symantec's Backup Exec QuickStart software and comes with 3 years warranty and support.
Media Compatibility
Tandberg Data's SLR cartridges are the perfect complement to SLR technology. They provide the necessary features needed for Tandberg SLR tape drives.
*assumes 2:1 data compression
SPECIFICATIONS
| | |
| --- | --- |
| Capacity (native) | 70 GB |
| Capacity (compressed) | 140 GB |
| Transfer Rate (native) | 6 MB/s |
| Transfer Rate (compressed) | 12 MB/s |
| Buffer Size | 8 MB |
| File Access Time | 99 |
| System Interface | SCSI-3, Multimode Wide Ultra (SE)/ Ultra2 (LVD) |
| Tape Alert Compliant | Yes |
| Recording format | ALRF-6 (Advanced Linear Recording Format) |
| Encoding / Decoding | VR RLL |
| Number of tracks | 192 |
| Backward write | SLR140, SLR100, SLR75, SLR60, SLR50, SLR40 |
| Backward read | SLR140, SLR100, SLR75, SLR60, SLR50, SLR40, SLR7 |
| Media Durability (archival life) | >20 years |
| Hard Read Error Rate (less than) | 10^-17 |
| Reed Solomon ECC | Level 10 |
| MTBF | 300 000 hours |
| Height (Internal Drive) | 44 mm |
| Width (Internal Drive) | 150 mm |
| Depth (Internal Drive) | 218 mm |
| Weight (Internal Drive) | 1.1 kg |
| Height (External Drive) | 64,5 mm |
| Width (External Drive) | 205 mm |
| Depth (External Drive) | 267 mm |
| Weight (External Drive) | 2,6 kg |
| Power Consumption (operating mode) | 23,1 W |
| Power Consumption (sleeping mode) | 7,2 W |
| Power requirements (External drive) | 100-240 V |
| Average load to BOT | 30 |
| Aggregate sustained data rate (native) | 21 GB/h |
| Aggregate sustained data rate (compressed) | 43 GB/h |
| Data Cartridges | SLR140 |
| Temperature (operating) | 5 – 40 |
| Temperature (non-operating) | -30 – +60 |
| Relative Humidity, operating | 20 – 80 % |
| Relative Humidity, Non-operating | 5 – 95 % |
| Altitude (max.) | 4000 m |
| Regulatory Agency Approvals | UL 1950, CAN/CSA-C22.2 No950, EN60950, IEC 60950, AS/NZS 3548, EN 55022 (CISPR22) |
| Form Factor | 5,25 |