Tandberg SLR24 Tape Drive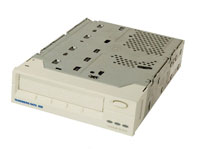 The Tandberg SLR24 offers 24GB* capacity with up to 8.6GB*/hr transfer rate. Ideal for busy and fast growing small businesses utilizing typical office applications, databases, e-mail and print/file server.
Tandberg SLR24, excellent price-performance tape drive with unmatched scalability
12/24*GB capacity, 8.6*GB/hr transfer rate
Average file access 45sec and media load time < 30sec
Superior SLR reliability, less than 1.5% field returns/year
Added security through TapeAlertTM
The soft-load mechanism on the Tandberg SLR24 adds data-security by preventing unauthorized access to the cartridge, and allows integration of the tape drive into autoloader systems for unattended backup, archival, or near-line storage.
The Tandberg SLR product line secures your future capacity and performance needs by offering one of the most scalable tape storage technologies available.
Compatibility within the family of Tandberg SLR tape drives and automation products allow scalability up to 100GB* with the SLR40, SLR50, SLR60, SLR100 tape drives and with integration into unattended backup, capacities up to 4TB* with 144GB*/hr transfer rate can be achieved.
For your PC Server network and Workstation with 8 to 24*GB of disk storage capacity, the Tandberg SLR24 is
perfect. Tandberg SLR products support all popular network environments including Windows NT, Windows 2000, Novell NetWare, Unix and Linux with easy to use software solutions.
Tandberg SLR products are available as complete turnkey solutions for desktop and network applications or as drive kits without software.
*Assuming 2:1 Data Compression
DRIVE
Tandberg SLR24
Capacity (formatted)
Native/Compressed*:
12/24GB
Buffer Size:
2MB
Data Transfer Rate
Native Sustained:
1.2MB/s
Compressed Sustained*:
2.4MB/s
Compressed Sustained*:
8.6GB/hr
Burst:
20MB/s
File Access Time
Typical:
45 sec
Media Load Time
Typical:
< 30 sec
System Interface:
Wide Ultra2 LVD/SE1
Tape Alert Compliant:
YES2
Format, Compatibility and Media
Recording Format:
SLR24
Number of Tracks:
144 data tracks (+24 servo tracks)
FRPI/bpi:
50 800/67 700
Backward Write:
–
Backward Read:
SLR4, SLR5
Media
Media Data Retention (Archival Life):
> 20 Years
Data Cartridges:
SLR24 (SLR6 24GB), SLRtape 24
Reliability and Error Correction
Hard Read Error Rate:
< 10–17
Reed Solomon ECC:
Level 6
Mean Time Between Failure (MTBF)
Hours:
300 000
Mean Time To Repair (MTTR):
<30 min
Tape Motion
Tape Speed
Read/Write:
60 -120 ips, auto selected depending on tape format and host transfer rate
Wind/Rewind:
120 ips
Start/Stop Time (typical):
420 ms / 350 ms
Power Requirements (Typical)
Internal Drive
External Drive
Power Consumption:
+5Vdc excl. bus terminator 1.5 / 1.2 A (sleep mode)+12Vdc motor not running 100 mA

+12Vdc motor running 1.3 A

Standby: 7.2 W / Running: 23.1 W

115 – 230 Vac / 0.6 – 0.3 A, 50 – 60 Hz