Quantum CL200 LTO1 Full Height LTO Drive
Certance CL200 LTO1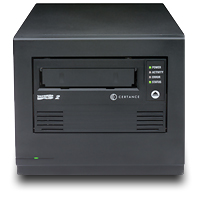 Here is what Certance had to say about their first LTO drive
Overview
The Certance LTO Ultrium 1 has been molded by the Ultrium format of LTO technology and perfected by the engineers at Certance to provide the ultimate in high capacity, high reliability data protection. No other tape products perform like the Certance LTO Ultrium 1 family of tape products.
All Certance LTO tape drive solutions include fully-licensed BakBone NetVault WorkGroup Edition ($1,195 value) that runs on Windows, Linux and Unix, support up to 5 heterogeneous clients and provides up to 100 GB of disk-to-disk-to-tape capacity.
Features
Complete solution including BakBone NetVault WorkGroup Edition backup software ($1,195 value)
Up to 200 GB capacity on a single cartridge
The fastest LTO-1 drive on the market with up to 115 GB/hr backup speed
Satisfies the "archiving" component in many regulatory requirements
Backed by a 3-year limited warranty and the REACT Rapid Replacement Program .
CL 200 has a 7% performance advantage over HP and IBM LTO Ultrium format drives and over 45% performance advantage compared with Quantum SDLT 220
Compression engine runs at 80 Mbytes per second, the same speed as the SCSI bus. This provides an advantage compared with other Super Tape drives when recording highly compressible data. CL 200 is capable of up to 5:1 compression while the competitive drives max out at approximately 2.5:1
FastSense provides a performance/reliability advantage over Quantum, HP and IBM. FastSense alters tape speed in 5 steps, each 2 Mbytes per second. This allows CL 200 to be the most flexible when it comes to speed variability
Certance-exclusive Dynamic Powerdown protects the data cartridge during unexpected power loss.