Quantum LTO4 Half Height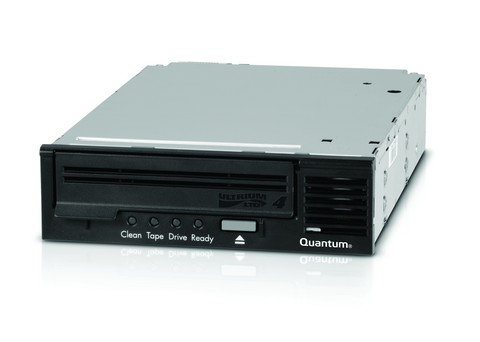 LTO-4 HH Product Details
Quantum "Backup Ready" kit solutions allow you to go from box-to-backup in minutes with the highly reliable Quantum LTO-4 HH tape drive, world-class Backup Exec™ QuickStart software and durable Quantum media. "Backup Ready" solutions are cost-effective, easy to install and fully supported by Quantum.
Choose the Quantum LTO-4 HH tape drive configuration that is right for your environment: a server-installable internal, convenient tabletop or space-efficient rackmount.
Key Features and Benefits
Performance – Compressed transfer rates up to 576GB/hr*
Capacity – Up to 1.6TB compressed capacity* – 2X LTO-3 HH and the same as the full height LTO-4
Value – Cost-effective half-height design allows for more attractive price point versus full-height drives
Security – AES 256-bit hardware-based encryption, Write Once, Ready Many (WORM) capability
Compatibility – Investment protection with backward read/write compatibility to LTO-3 media and backward read compatibility to LTO-2 media
Overview
Quantum's LTO-4 HH tape drive is a half-height tape drive that offers high capacity and performance in a space saving and energy efficient half-height format. Quantum's LTO-4HH tape drive also provides native AES 256-bit data encryption, providing easy-to-enable security to prevent unauthorized access of tape cartridges, all without loss of performance.
Quantum's LTO-4 HH tape drives, with either a SCSI or SAS interface, protect your investment by providing backward read and write compatibility with LTO-3 media and backward read compatibility with LTO-2 media. Quantum's LTO 4HH tape drives employ dynamic data rate matching to adjust to the speed of the host, reducing wear and tear on both drive and media and increasing performance, even on slower hosts.
* Assumes 2:1 compression
Media Compatibility
Quantum LTO-4 HH tape drives write to the following media:LTO Ultrium 4 (MR-L4MQN-01 and MR-L4MQN-02), LTO Ultrium 3 (MR-L3MQN-01 and MR-L3MQN-02)
Quantum LTO-4 HH tape drives read the following media:LTO Ultrium 4 (MR-L4MQN-01 and MR-L4MQN-02), LTO Ultrium 3 (MR-L3MQN-01 and MR-L3MQN-02), LTO Ultrium 2 (MR-L2MQN-01)
Quantum LTO-4 HH tape drives utilize the following cleaning cartridge:LTO Universal (MR-LUCQN-01)