Quantum LTO5 Full Height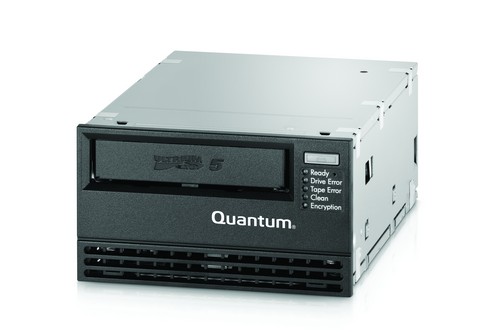 LTO-5 Product Details
Quantum "Backup Ready" kit solutions allow you to go from box-to-backup in minutes with the highly reliable Quantum LTO-5 tape drive, world-class Backup Exec™ QuickStart software and durable Quantum media. "Backup Ready" solutions are cost-effective, easy to install and fully supported by Quantum.
Choose the Quantum LTO-5 tape drive configuration that is right for your environment: a server-installable internal, convenient tabletop or space-efficient rackmount.
Key Features and Benefits
Performance – Compressed transfer rates up to 1008GB/hr*
Capacity – Up to 3TB compressed capacity*
Security/Ease-of-Use – AES 256-bit hardware-based encryption, Write Once, Read Many (WORM) functionality, and partitioning capability.
Compatibility – Investment protection with backward read/write compatibility to LTO-4 media and backward read compatibility to LTO-3 media
Overview
Quantum's LTO-5 Full Height (FH) and Half Height (HH) tape drives deliver tremendous capacity and performance at an affordable price. In addition, they use less power on average than LTO-4 drives, making a "greener" and more energy efficient solution.
The drive uses the latest industry-standard interface—6 Gb/sec Serial Attached SCSI (SAS)—to allow for easy installation and integration into your data center. Quantum's LTO-5 FH/HH tape drives also protect your investment by providing backward read and write compatibility with LTO-4 media and backward read compatibility with LTO-3 media.
And with Quantum's LTO-5 drives, you can be assured of security with hardware-based AES 256-bit data encryption, allowing for the highest level of security without any loss of performance during the encryption process. In addition, LTO-5 is WORM capable when used with LTO WORM data cartridges. And the new partitioning functionality enables the tape to be formatted so it can be treated like a hard disk – perfect for video, imaging, CAD/CAM and other large file applications.
Media Compatibility
Quantum LTO-5 tape drives write to the following media:LTO Ultrium 5 (MR-L5MQN-01 and MR-L5MQN-02), LTO Ultrium 4 (MR-L4MQN-01 and MR-L4MQN-02)
Quantum LTO-5 tape drives read the following media:LTO Ultrium 5 (MR-L5MQN-01 and MR-L5MQN-02), LTO Ultrium 4 (MR-L4MQN-01 MR-L4MQN-02), LTO Ultrium 3 (MR-L3MQN-01 and MR-L3MQN-02)
Quantum LTO-5 tape drives utilize the following cleaning cartridge:LTO Universal (MR-LUCQN-01)