Sony DDS4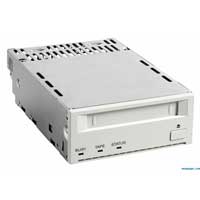 The StorStation DDS-4 drive has a long tradition in the low end tape market. With 20GB native capacity, this drive is ideally suited for the entry PC server backup requirements. The DDSi40s is an internal 3 ½" drive with attached 5 ¼" rail adapter for flexible integration.
Sony manufactures the hardware and media resulting in high quality and compatibility. The Super Head Cleaner™ improves reliability and a Super Air Flow Environment (SAFE) will further improve reliability. For enhanced data integrity this drive includes Hyper Metal™ Head Technology.
Features
With 20GB native capacity for DAT/DDS-4 format, this is the same capacity as Travan 40 or HP DDS-4 drives for similar cost.
High Backup Data transfer rate with 2.4MB/s native, fast enough for entry-level server and workstations.
3 ½" tape drive form factor with optional 5 ¼" adaptor including white and black bezel in the box, for flexible server and workstation integration.
Super Air Flow Environment (SAFE), reduces dust contamination and controls temperature, improving reliability.
Full read-and-write backward compatibility with earlier DDS generations protects investment.
Super Head Cleaner™ provides an automated cleaning solution, improving reliability and operational efficiency.
Hyper Metal™ Head Technology, reduces read error rate, and improves signal output, resulting in better data integrity.
Today's rapidly expanding networks and information systems require a fast, reliable storage solution. Sony's new DDS 4 format, based on the firmly established DDS media system, is the answer.
The SDT-10000 / SDT-11000 offers attractive features such as compact size, fast speed and large capacity, making this tape streamer ideal for data storage in all applications–from corporate servers and workstations, to SOHO environments.
Key DDS 4 Features:
40 GB1 in a compact DAT-size cartridge.
Very fast transfer rate of 17 GB/hour1.
Full read and write backward compatibility with DDS-1, 2, and 3 ensures all valuable archived data can still be accessed.
Fast drum rotational speed (8503 rpm) boosts the transfer rate to 4.8 MB/sec.1 (12X) in DDS-3/4 mode, and 1.5 MB/sec.1 (4X) in DDS-1/2 mode.
Sony SDT-10000 / SDT-11000 / DDS 4
 Capacity
DGD150m: 20GB (40GB, compressed)DGD125m: 12GB (24GB, compressed)DGD120m: 4GB (8GB, compressed)DG90m: 2GB (4GB, compressed)DG60m: 1.3GB (2.6GB, compressed)
 Transfer Rate(sustained)
DGD150/125m: 2.4MB/s (4.8MB/s, compr.)DGD120m: 778KB/s (1.5MB/s, compr.)DG60/90m: 778KB/s (1.5MB/s, compr.)
 Interface
Ultra Wide SCSI
 Dimensions (W x H x D)
101.6 x 41.2 x 146 mm
 Weight
600g
 MTBF
250,000 power-on hours
 Format
DDS 4
1 Assuming 2:1 compression