LTO Cleaning Frequency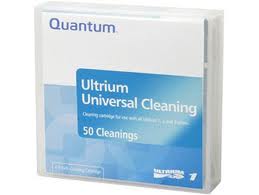 [vc_row el_position="first last"] [vc_column] [vc_column_text el_position="first"]
Determining when to clean your LTO tape drive
When the tape drive requires cleaning, the front panel will display the cleaning light. Periodic cleaning is not recommended unless you are experiancing problems. Clean the LTO drive in usual operation only when the cleaning light is displayed.
Note: Some software applications may notify you that the tape drive requires cleaning. Refer to your backup software documentation for more information.
Cleaning cartridge use
To use the cleaning cartridge, follow these steps:
Apply power to the LTO tape drive and wait for the power-on self-test to complete.
Insert the LTO cleaning cartridge into the tape drive. The cleaning cycle is performed automatically and takes approximately two minutes.
When the cleaning cycle is complete, the LTO tape drive ejects the cleaning cartridge and the cleaning light is no longer displayed.
Note: If there are no more cleaning cycles remaining on the cleaning cartridge, the tape drive ejects it without performing the cleaning.
Confirm that a cleaning was completed by making sure that "Cleaning error" is no longer displayed.
Store the LTO cleaning cartridge for future use if there are less than 50 cleaning cycles performed.
LTO Cleaning Cartridges
To clean your LTO drive, use only  LTO Cleaning Cartridges  for use with LTO drives.
CAUTION: Do not use any cleaning method other than the LTO Cleaning Cartridge for use with LTO drives. Using other cleaning methods not approved by SQS will void the tape drive's warranty.
| LTO Utrim Drive Manufacturer/Model | Max Cleanings |
| --- | --- |
| IBM 3580 and IBM StorageSmart T200/TX200 Utrium Drives | 50 |
| IBM StorageSmart half high LTO Ultrium drives | 15 |
| Seagate LTO Ultrium Drives | 50 |
| HP LTO Ultrium Drives | 15 |
If an LTO cleaning tape has expired, the cleaning light will fail to go out and the cleaning tape will be ejected without a cleaning cycle being performed.
Tape Libraries – Important Note:
Please note, LTO cleaning cartridges loaded into a tape library must be put into a dedicated cleaning slot. This slot is usually allocated either using the library front panel / configuration page OR in your backup software such as Backup Exec
A failure to correctly designate a slot as a cleaning slot when a cleaning tape is inserted may cause your library to load the cleaning cartridge every time the library performs an inventory (depending on config). This can have the effect of over cleaning the tape drive and shortening the drives life.
If you require more information about this issue, please call us now on 08450 666 222 where our engineers can best advise you as to configuration and backup strategy options for your specific library and software combination.
[/vc_column_text] [vc_column_text el_position="last"]
Looking for LTO cleaning cartridge tapes?  Click here to go to our online store.